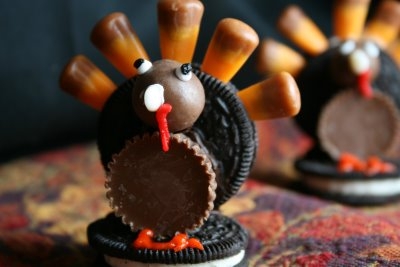 Happy Fall y'all! I cant really say I know much about fall, since here in Florida we don't get it. Well my calender on the fridge says today is the first day of fall. But the thermometer on my house says its still smack dab in the middle of sizzling summer! So many of you say your nights are starting to cool off. Here in Tampa, you can cut the humidity with a knife and you have to still bathe in Deep Woods Off to warn off the horse sized mosquito's! Ohhh happy days!!!
Anyways, what a better way to start of "FALL" than turkey? No not the kind we usually pair with mashed potatoes, the Oreo Bread of Turkey!
Aren't they adorable? I am not sure where they originally came from, probably one of those crafty holiday food magazines. I saw these many moons ago at a party and they always stuck in my head.
Writing the directions down without a visual is hard. But just one look at them and you can pretty much figure out how to make them.
Here is what you need for 1 turkey
2 DOUBLE stuff Oreos
7 Candy Corns
1 malted Milk Ball
1 Reece's Cup
Chocolate Frosting(the premade kind in the tub)
White, red, orange and black decorating frosting(the kind in the squeeze tube)
Lay the one Oreo down. Take a smear of chocolate frosting and glue the other Oreo so it stand on top of the bottom Oreo(this one serves as the Turkeys back)
With the chocolate frosting, "glue" the Reece's cup to the bottom and back Oreos
With the chocolate frosting glue the whopper to the top of the Reece's.
Place 5 candy corns tip down into the vanilla cream of the "back" of the turkey
For the beak…Break off the tip of 1 candy corn and with the white frosting glue it on the malted milk ball.
Dab on the eyes with the white and black frosting.
Make feet with the orange frosting
Make the waddle with the red frosting
Affix 1 candy corm to the rear of the turkey..for his hiney!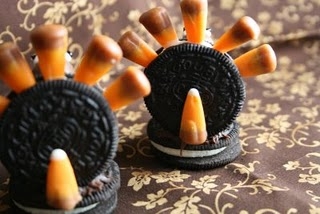 DOES MY BUTT LOOK BIG???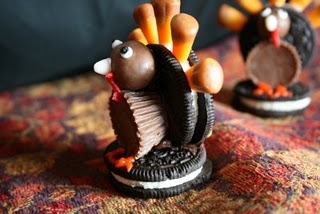 Enjoy..the kiddos will get a kick out of these!