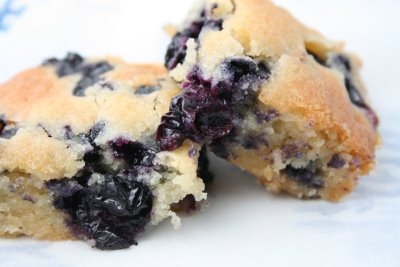 Now now now…don't get excited! I am still grounded in the baking department. I still have a whole load of things I haven't posted about during my baking binge period!
I have NEVER been a fan of Almond flavoring. Almond extract just tastes nasty and contrived to me. But yet I still have a bottle in the pantry??!! Along side of every other extract know to man..its parked right next to my Root Beer extract. Does anyone else out there have an absurd amount of extracts?
And for some unknown reason, I had to bake them immediately!! Even with the almond extract, I STILL had to bake them! It took like 5 seconds to whip them up. The batter was really thick, so I was VERY tempted to add milk. But soooooo unlike me, I stuck to the way the recipe was written. And I am so very happy I did. These little bad boys were out of this world. Hmmmm, maybe I do like almond extract(in small amounts).
I found they were best the night they were made. The next day, the flavor was still the same amazing out of the oven flavor..but they lost a bit of chew. So eat them all in one sitting, still steaming out of the oven!!!! Yes, they are that good!!!
Amazing Caramel Blueberry Almond Blondies
1 cup granulated sugar
1.5 tbs honey
1 stick melted butter
1 egg
1.5 tsp almond extract (feel free to use vanilla extract instead)
1 cup flour
Dash of salt
1 cup fresh blueberries (or more if youd like)
nuts (opt)
Combine the sugar and honey until it is a thoroughly combined crumbly mixture.
Then pour in the butter and the egg and mix until well combined.
Add the almond extract.
Stir in the flour and salt until everything smooth and fold in the blueberries. (If you add nuts, add them now).
Pour into a greased baking sheet, (bang on counter to get out the air bubbles) and bake at 350º for about 35 – 45 min until golden brown and semi firm.(It will be a little soft, and when a toothpick is inserted, stuff will stick to the toothpick)
***I used a 8 X 8 pan***