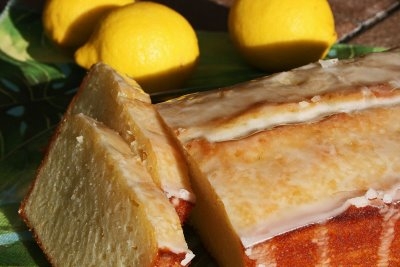 My lemons were starting to getting soft on me, so I had to make something quick. I am trying soooooo hard not to waist as much food around this crazy house of mine.
While looking at my unnecessary large amount of cookbooks…I was drawn to Ina Garten's Yogurt Lemon Loaf. But I noticed something strange about this recipe. NO BUTTER???!!!.Oh, there must be a misprint..a cake with no butter??? It isn't humanly possible for me to cook without butter! My Grandma cooked with only real butter, my mom cooked with only real butter and I cook with only real butter..lets just say buddah runs through my veins..or maybe my veins are sooo clogged nothing is running through them!!LOL
Despite my hesitation..I decided to make this loaf.
This was just about the easiest cake I ever whipped up. The flavor of this cake was delightful. It was all about the Lemons. The lemon simple sugar that you pour into the holes makes it SOOOO moist. And the Lemon glaze on top is just perfect! I did find the texture of this cake a bit odd. It was like a really wet dense sponge. I have never had a cake before with this texture..but it still didn't take away from the superb summery lemon flavor!
LEMON YOGURT LOAF
1 1/2 cups all-purpose flour
2 teaspoons baking powder
1/2 teaspoon kosher salt
1 cup plain whole-milk yogurt
1 1/3 cups sugar, divided
3 extra-large eggs
2 teaspoons grated lemon zest (2 lemons)
1/2 teaspoon pure vanilla extract
1/2 cup vegetable oil
1/3 cup freshly squeezed lemon juice
For the glaze:
1 cup confectioners' sugar 2 tablespoons freshly squeezed lemon juice
Preheat the oven to 350 degrees F.
Grease an 8 1/2 by 4 1/4 by 2 1/2-inch loaf pan.
Line the bottom with parchment paper. Grease and flour the pan.
Sift together the flour, baking powder, and salt into 1 bowl. In another bowl, whisk together the yogurt, 1 cup sugar, the eggs, lemon zest, and vanilla. Slowly whisk the dry ingredients into the wet ingredients. With a rubber spatula, fold the vegetable oil into the batter, making sure it's all incorporated. Pour the batter into the prepared pan and bake for about 50 minutes, or until a cake tester placed in the center of the loaf comes out clean.
Meanwhile, cook the 1/3 cup lemon juice and remaining 1/3 cup sugar in a small pan until the sugar dissolves and the mixture is clear. Set aside.
When the cake is done, allow it to cool in the pan for 10 minutes. Carefully place on a baking rack over a sheet pan. While the cake is still warm, poke a bunch of holes in the cake and pour the lemon-sugar mixture over the cake and allow it to soak in. Cool.
For the glaze, combine the confectioners' sugar and lemon juice and pour over the cake.