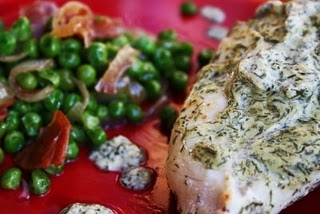 I am not so much in the blogging mood tonight! I am just tired. I was at Adventure Island today with my son and his friend Averie. I got my ass kicked. I should just remind myself the I am 32 not 12! Oh well I will chalk up my trip to Adventure Island as my gym work out today!
P.S…Shy your eyes away from the peas if you are doing WW.
But they sure were good..Peas sauteed in BUTTER and olive oil with shallots and prosciutto!
Mustard-Dill Chicken
Servings: 4
Preparation Time: 8 min
Cooking Time: 25 min
Level of Difficulty: Easy
Points Value:3
Ingredients
1/4 cup Dijon mustard
1/4 cup plain fat-free yogurt
1/2 tsp garlic salt
1 Tbsp dried dill weed
1 pound uncooked boneless, skinless chicken breast, four 4 oz pieces
Instructions
Preheat oven to 350°F. In a small bowl, combine mustard, yogurt, garlic salt and dill. Place chicken on a plate; thoroughly coat chicken with mustard sauce. Tear off 4 sheets of aluminum foil that are large enough to wrap each chicken breast individually. Place a prepared chicken breast on each piece of foil; gather foil loosely around chicken and fold over to seal. Place foil packs on a nonstick baking sheet; bake for 20 minutes. Using oven mitts and keeping your face away from steam, open foil. Broil chicken on foil until lightly browned and cooked through, about 3 to 5 minutes more. Yields 1 piece of chicken per serving. Points value 3