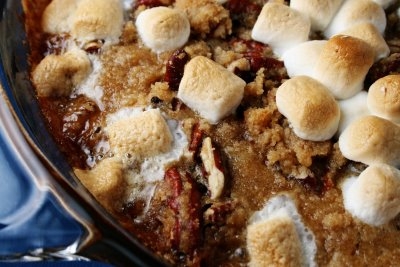 Have you ever tasted something that you thought was sooooo good that you cant stop thinking about it? Have you ever woken up first thing in the morning , run to the fridge and get the leftover container and dig in, even though it isn't breakfast food? (No, cold pizza left over from the night before of binge drinking doesn't count!) Seriously y'all, this dish IS that good! I know I am supposed to be watching what is entering my mouth…but good lord..I just couldn't help myself!
Don't think you like Sweet Potatoes??!! You will change your mind if you make this. Again, this dish IS that good!
However my pickiest eaters didn't want to try it. But what else is new at the dinner table with a 5 and a 3 year old. The rules are in my home are that they HAVE to try everything, but they don't have to eat anymore if they don't like it. My 3 year old tasted it and said in her sweet voice, "It tastes like candy." BINGO! I mean come on, the topping is brown sugar, butter, flour, pecans and marshmallows. What is not to love???
I cant say that this is the most healthy thing I have ever made, but you can always lighten it up a tiny bit by using Splenda instead of the cup of sugar.
I can pretty much guarantee that if you make this, you will have dreams about it!
SWEET POTATO CASSEROLE
1 cup Brown Sugar
1 cup chopped Pecans
1/2 cup self-rising flour
1/2 cup melted butter
3 cups mashed cooked sweet potatoes
1 cup white sugar or Splenda
1 cup coconut flakes
2 eggs, lightly beaten
1 1/2 teaspoon vanilla extract
1/4 cup heavy cream
1 cup marshmallows
Topping:
In a bowl combine brown sugar, nuts, flour and 1/4 cup melted butter, mix together and set to the side.
Inside:
In a large bowl, stir together the sweet potatoes, sugar or Splenda, coconut, eggs , vanilla and heavy cream. Scoop the mixture into a large greased casserole dish. Sprinkle the topping over the mixture, then top with the marshmallows. Bake at 350 for about 20-30 minutes until golden brown and bubbly!
DIG IN!!!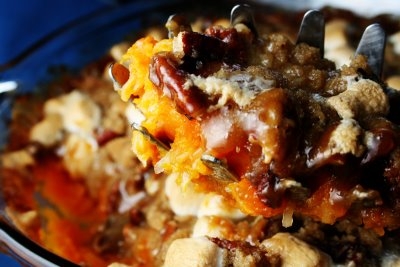 Inspired by Paula Deen