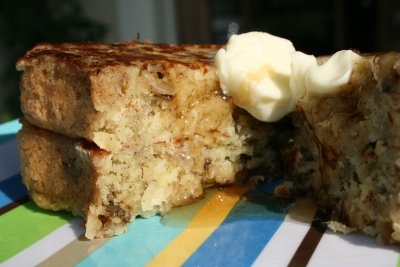 I made my
Banana Bread
last night (minus the blueberries). Anytime I have those almost black bananas around I ALWAYS make Banana Bread. I really need to find something else to do with them. But my Banana Bread is sooooo good I cant help myself.
This was the conversation in the house last night…
Husband: " You know what I want for breakfast?"
Me: " oh God, give me a break, what do you want for breakfast now?"
Hubby: "Banana Bread French Toast."
Me: "Are you kidding me?"
Hubby: "um, no"
Me: "Where in the Hell do you come up with this stuff."
Hubby: "It just makes sense, Banana Bread French Toast…yep, that's what I want"
Me: "Cook it yourself"
Hubby: Sad puppy dog eyes..with a half smerk smile
Me: "Fine"
(we are very sarcastic with each other in a VERY loving way..LOL)
Let me just say..my husband doesn't even Grill…I know I know..a man that doesn't grill?? Strange but true! I do 100% of the cooking in the house. Unless you count putting a waffle in the toaster oven for the kids??!! He always comes up with the craziest things in the food department. It will be so easy for me to take care of him when he is old with no teeth..he mixes all of his food up in the first place. So it wont be a big deal for me to puree all his food together!
Wahoo for me!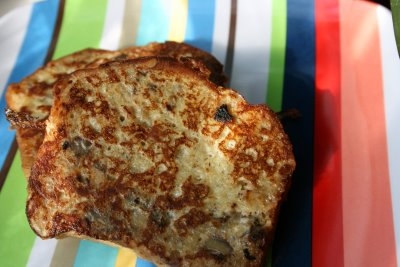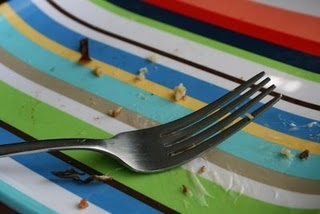 It was pretty darn good!
If you wish to try this crazy dish..just make your french toast like you normally do, but substitute banana bread for your normal bread! And there you have it!