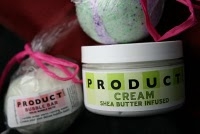 You all know those fabulous products that I am hooked on? Remember from the
Banana Bread Trade?
You get
20%
off everything in the store.
So if you have never tried her products..now here is your chance to try them at a reduced price!
I promise you will love them!
Go to http://www.productbody.com/ and shop away. And don't forget to use the coupon code TROOPS to get you 20% off!