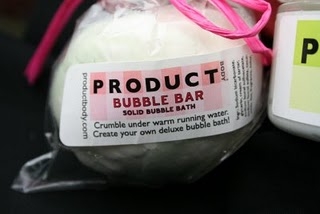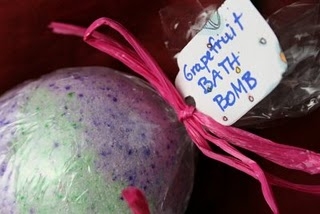 Joanna from Product Body and her 2 blogs, Product Body and The Soap Bar contacted me a while ago. She wanted to do a trade..her goodies for my goodies. She is in the soap making business and I am in the obsessive baking business(well its not really my business, just my obsession).
Well after about a month of talking about it, our planets finally aligned and we got down to business. She would send me some of her soaps and lotions and I would send her my Banana Bread! I was sooo very excited because this means I could bake for someone other then those in my circle. And it wouldn't be sitting on my counter staring at me to eat it! SCORE
I have never been much of a potions and lotions kinda girl. God has blessed and cursed me with oily skin, so I have never really needed any type of lotion. And I dint like fragrance to interfere with my signature scent that I will ALWAYS wear Angle by Thierry Mugler.
So the only time I really lotion up is at night after the shower. But I was totally game for our little trade!
Here is what I got
Product Body Cream Shea Butter Infused
Product Body Velvet Sugar Scrub in Lemon Essential (not pictured)
Product Body Sugar Foot in Cookie (not pictured)
Product Body Bubble Bar in Sexy Laundry Day
Wow I got all of that and all she got was 2 loafs of banana bread!
The first item I opened was the Cream. I was at first hesitant, creams just sit on top of my skin making me a type of oil slick that my kids could play slip and slide on! However I scooped some if this cream, lightly scented in a wonderful fresh way, rubbed it in and BAM..it gracefully soaked into my skin, making me baby soft! Seriously..my skin was ultra hydrated and ZERO oil slick affect on me! Finally a cream that I could use.
Now lets talk about my shower or should I say my in home spa experience.
After doing my normal shower routine I reached for the Velvet Sugar Scrub. Ok you know those other sugar scrubs that you have to dig through a gallon of oil to get to the scrubby stuff?? Nope not with this. Her sugar scrub is actually EMULSIFIED. She mixes it up all nice and good for you that there is no mixing required and no oily residue left over. JoAnna was right on when she named this scrub "Velvet". My skin was like VELVET with no oil puddle on the shower floor that I would cause me to fall and split my head open. And it smelled light like the freshest lemon available.
My mini Pedi started off with the Sugar Foot Scrub. Again the scrub is EMULSIFIED, so no nasty grime to search through! I sat on my bench in the shower and scrubbed away. It felt sooo nice to massage my feet with this wonderful cookie scented foot scrub. My heels were renewed with out having to get half of my heels shaved off at the salon by one of those scary razor
thing-a-ma-gigies.
I have not had a chance to use the Bubble Bar or the
Grapefruit Bath Bomb
yet. Come on Y'all I have 2 kids. That means I would have to get all the toys out of my bath tub..somehow they commandeered MY tub instead of using their own. I suppose because it is almost as big as a spa, they like the amount of water it holds. Not to mention the 2 rugrats would be in there every 5 seconds wanting to get in the tub with me. But I will update you when I get to indulge!
I am so very excited about my new favorite products and you should be too.
Go to www.productbody.com and order away. Order for yourself, your sister, your mom, your BFF, your grandma, you metro sexual man friend, your neighbor, well heck order something for everyone you know, they will thank you for it.
You will not be disappointed.
Thank you JoAnna..you renewed my faith in potions and lotions!!!