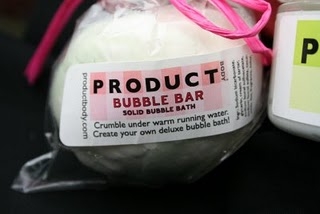 Well after about a month of talking about it, our planets finally aligned and we got down to business. She would send me some of her soaps and lotions and I would send her my Banana Bread! I was sooo very excited because this means I could bake for someone other then those in my circle. And it wouldn't be sitting on my counter staring at me to eat it! SCORE
Here is what I got
Wow I got all of that and all she got was 2 loafs of banana bread!
Now lets talk about my shower or should I say my in home spa experience.
thing-a-ma-gigies.
I am so very excited about my new favorite products and you should be too.
You will not be disappointed.
Thank you JoAnna..you renewed my faith in potions and lotions!!!