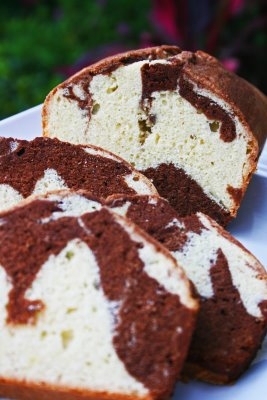 I told you before in a video post that I made Dorie Greenspan's "Perfection Pound Cake"
Hmmmm..obviously there wasn't too much "Perfection" going on in my kitchen that day!
Everything went as planned..I read all the wonderful tips on making pound cake and followed the directions to a T. I decided to spice it up a bit and do the Marbled Pound Cake. (I mainly wanted to practice my "marbling"). I took the loaf out of the oven just as the toothpick came out w/ only a few crumbs on it. When I cut into it, I immediately knew something was terribly OFF. I know pound cake has a dense texture. But this seemed extra dry.
Picture this..I know it has happened to most of us…….You take a bite of a Saltine Cracker and someone makes you laugh, and you spray everyone at the table with dried cracker bits. Happened to you before right??!!LOL!!
Well, that is what happened when I took the bite out of this little piece of "Perfection".
As soon as I took my bite, my son asked me a question, I went to answer him and the dry sand like cake went spewing across the kitchen and I felt like I was sucking on a cotton plant. I know what you are saying mom.."you shouldn't have been talking with your mouth full in the first place!" Yes..this I know…but I just had to give y'all the visual!
Oh and another thing..you could literally flick the chocolate portion and it would separate from the regular part of the cake! Hmmmmm???
Well with all of that said..it sure does take a pretty picture!
Here is the recipe if you want to give it a go!!!
Perfection( cough) Pound Cake
Ingredients:
2 cups all-purpose flour (or 2-1/4 cups cake flour)
1 teaspoon baking powder
1/4 teaspoon salt
2 sticks (8 ounces) unsalted butter, at room temperature
1 cup sugar
4 large eggs, at room temperature
1 teaspoon pure vanilla extract
Getting Ready:Center a rack in the oven and preheat the oven to 325 degrees F. Butter a 9×5-inch loaf pan or an 8-1/2 x 4-1/2-inch loaf pan. Put the pan on an insulated baking sheet or on two regular baking sheets stacked one on top of the other.
Whisk together the flour, baking powder, and salt.
Working with a stand mixer, preferably fitted with a paddle attachment, or with a hand mixer in a large bowl, beat the butter and sugar on high speed until pale and fluffy, a full 5 minutes. Scrape down the bowl and beater and reduce the mixer speed to medium. Add the eggs one at a time, beating for 1 to 2 minutes after each egg goes in. As you're working, scrape down the bowl and beater often. Mix in the vanilla extract. Reduce the mixer speed to low and add the flour, mixing only until it is incorporated – don't overmix. In fact, you might want to fold in the last of the flour, or even all of it, by hand with a rubber spatula. Scrape the batter into the buttered pan and smooth the top.
Put the cake into the oven to bake, and check on it after about 45 minutes. If it's browning too quickly, cover it loosely with a foil tent. If you're using a 9×5 pan, you'll need to bake the cake for 70 to 75 minutes; the smaller pan needs about 90 minutes. The cake is properly baked when a thin knife inserted deep into the center comes out clean.
Remove the cake from the oven, transfer the pan to a rack and let rest for 30 minutes.
Run a blunt knife between the cake and the sides of the pan and turn the cake out, then turn it right side up on the rack and cool to room temperature.
Storing:Wrapped well, the cake will keep for 5 to 7 days at room temperature (stale cake is great toasted) or up to 2 months in the freezer.
Marbled Loaf:
After the batter is fully mixed, transfer 1/2 the batter to another bowl and mix in 4 oz bittersweet chocolate, melted and cooled. Alternate large spoonfulls of the light and dark batter in the prepared pan, then run a knife in a zigzag pattern for the marbled pattern.