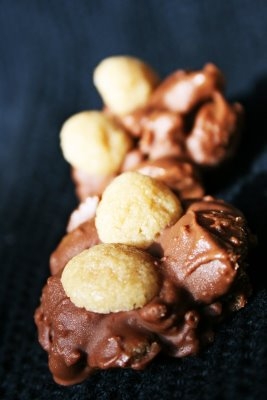 I have been stalking one of Rita's
posts
over at the
Clumbsy

Cookie
. No for real..seriously stalking this post for Cookie Chips Chocolate..I think I posted 3 comments and visited it about 10 times. I was drawn to these little suckers like a mosquito is to one of those blue bug zappers!!!
I love chocolate chip cookies and I love chocolate..so when someone reinvents the process, I get intrigued.
This photo is of the Stars of the Show. These my friends are itty bitty "Cookie Chips".
How did you get them that small you asked? You freekin pipe 3 full cookie sheets of these little bastards(can you tell I am a bit bitter?) Ok..now imagine piping regular consistency cookie dough through a tiny tip!!!???!!!! Um, Ya, it sucked! I was cursing Rita after about 3 minutes!LOL. But let me tell you, it was well worth it. My husband was sad when I packed them up to put them in the fridge for the evening! He REALLY enjoyed these!
On the top photo, I would love to say that I spritzed the food with water for a fancy photo. But nope, that is HUMIDITY! AGGGHHHHH! The second I walked outside, the water condensation was everywhere!Not to mention what my hair looked like!
Here is how to make em..
1/2 stick (4 oz) butter room temperature
6 tbs sugar
6 tbs brown sugar
1 egg
6 1/2 oz flour
1/4+1/8 tspn salt
1/2 tsp baking powder
9 oz chocolate of your choice
Beat butter and both sugars just until they come together. Don't over-beat. Add the egg and beat just until incorporated. Mix together the flour, salt and baking powder and add to the batter. Stir just until blended and put into a pastry bag with a small round tip.
Drop into a cookie sheet pulling up so the dough get a thin point, characteristic of the chips. Bake into a preheated 325ºF oven, for 5 minutes.
Let them cool while you melt the chocolate in the microwave or over a double boiler. Poor the chips over the chocolate and mix until they're all coated, being careful not to break them. Reserve some to decorate the top of the cookies. Drop by teaspoons onto a tray lined with parchment paper. Decorate with 3 or 4 cookie chips and take to the fridge to harden.