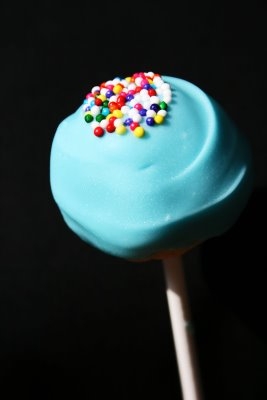 I had to jump on the Bakerella bandwagon and make some Cake Pops! I see them all over the Food Web World. They really are simple to make just VERY time consuming. I guess I made them time consuming with all the different decorations. I do it to myself..cause myself extra work and all and extra dishes to wash, but I love the self induced torture!
And I must say, they did have a very lengthy photo shoot. Probably about 80 pictures! My husband thinks I have lost my mind. But I constantly remind him that I didn't lose it, my children have sucked every bit of brain from my skull. Just like he constantly reminds me that his gray hair is caused by me! Again, I blame that on the kids too!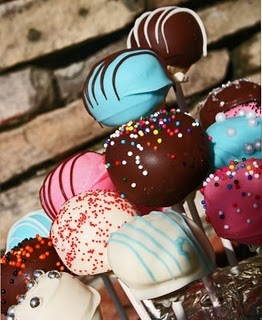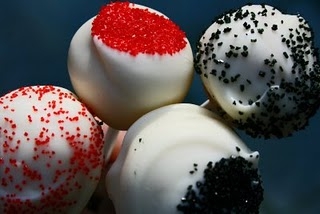 Here are the directions:
Here is what you need:
1 Box cake mix
1 can cream cheese frosting
50 lollipop sticks
Melting chocolates of your choice
Bake a cake per the box directions(I used Yellow Cake)
Let cool completely
Crumble cake or place in food processor and pulse until completely ground up.
Transfer crumbled cake to a large bowl.
Put a can of cream cheese frosting into the crumbled cake and mix until completely combined.
Roll cake mixture into balls the size of about a quarter and place on a cookie sheet lined with parchment or other non stick surface.
Melt your chocolate per package directions
Dip one end of your lollipop stick into the melted chocolate(works as a glue) and then place the chocolate end into the cake ball about half way.
Place them in the freezer to they get nice and firm.
One they are nice and hard you can dip them in the melted chocolate.
Place them in a block of Styrofoam and decorate them with whatever you have on hand like sprinkles.
Place them in the fride covered or you can keep them at room temp for a couple of days if covered!