I am soooo very thankful for everyone who reads my blog. And especially thankful for those of you who leave comments. I would have no clue who stops by my blog if it weren't for the comments..so THANK YOU!
I have recently received a few awards! YIPPEE! No..I am not giving another video acceptance speech..MIGRAINE= looking like complete ASS! So the Harry Winston's will remain in the safe for tonight!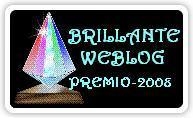 The first award of the evening is The Brillante Weblog Award..I received this from not one but TWO wonderful ladies.
Katie from Salt and Chocolate. All of her goodies on her site are breathtaking. She just celebrated her 100th post..so stop by her site and congratulate her!!
Christy from Southern Plate. Her site is new..but it looks like it has been around forever. It is packed full of down home Southern recipes. And all her posts give step by step photo instructions, which is wonderful! You want comfort food?..Christy will give it to ya!!!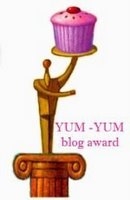 And the second award of the evening is the Yum-Yum Award from
Lina at My Life is Yummy. Her site is full of delicious professional looking items and but it is also rich in cultural photos! Love it.
THANK YOU from the bottom of my heart!