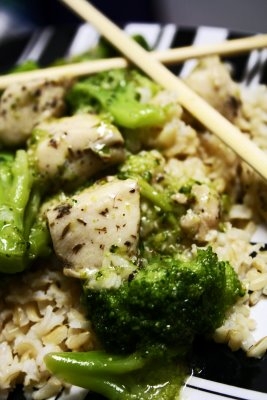 First..sorry for the hideous photo..I sooooo need to get a Lowel Ego light. Going outside to use the natural light is just not working for me! It was so humid today that I couldn't get my camera to stop fogging up!
I know I am boring and predictable..another chicken dish! Well, we eat a bunch of chicken in my house mainly because that's what my picky eaters will eat and I can do anything with it!
This dinner is easy as can be to make and an easy clean up(a HUGE bonus for me)!
It has a wonderful thick sauce bursting with garlic flavor that the broccoli soaks right up!
Chicken with Broccoli and Garlic Sauce
Ingredients
2 tsp Olive oil
3 Medium garlic clove(s), minced, or more to taste
1 pound Uncooked chicken breast, boneless and skinless, cut into 1-inch pieces
1 tsp Dried thyme, or 2 tbsp fresh minced thyme, or to taste
1/2 tsp Table salt
1/4 tsp Black pepper
2 cup Broccoli, florets
1 1/2 cup Canned chicken broth, reduced-sodium
1 1/2 tbsp Cornstarch
2 cup Cooked brown rice, kept hot
Preparation
Heat oil in a large skillet over medium-high heat. Add garlic and cook 1 minute. Season chicken with thyme, salt and pepper and add to skillet. Cook until browned on all sides, stirring frequently, about 3 minutes.
Add broccoli to skillet, cover and cook 2 minutes. Add 1 cup of broth, cover and simmer until chicken is cooked through, about 5 minutes.
Dissolve cornstarch in remaining 1/2 cup of broth and add mixture to skillet. Simmer until mixture thickens, stirring constantly, about 1 minute. Serve over rice. Yields about 1 cup of chicken mixture and 1/2 cup of rice per serving
Points Value: 5
Servings: 4
Prep Time: 17 minutes
Cooking Time: 15 min