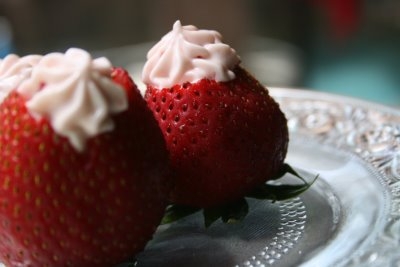 Ok you got about 8 minutes? You can whip this one up!! I was leaving for the 4th of July Weekend and I didn't want to leave the Strawberries in the fridge as a science experiment! My sister was having her book club at her house that night..so I thought that was the perfect way to get rid of the ruby red jewels.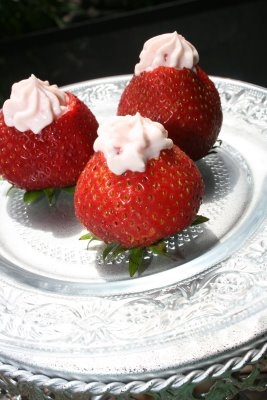 Cream Cheese Filled Strawberries
1 pound Strawberries, jumbo-size (about 18 strawberries)
4 oz Light cream cheese, at room temperature
1/2 cup Powdered sugar
1/2 tsp Vanilla extract
Preparation
Wash and dry strawberries (leave green caps on).
Using a paring knife, cut a wide v-shape out of the pointed end of each strawberry (like an open mouth); reserve cut out pieces of strawberries.
Place cut strawberries on a serving plate, green cap side down so they will be easy to fill.
Using an electric mixer, thoroughly combine cream cheese, sugar and vanilla in a medium bowl.
Chop reserved leftover bits of strawberries into tiny pieces and gently stir into cream cheese mixture with a spoon.
Fill each cut strawberry with a small amount of cream cheese mixture using a spatula or knife. Arrange filled strawberries on a serving plate, green cap side down.
Yields about 3 strawberries per serving.
Points Value: 2 for 3 strawberries