Here we are on week #3 of
Weight Watcher Wednesday
..and today I didn't have a sweet tooth(bizarre right?) so I decided to cook something savory. Chicken Fettuccine Alfredo.I am a big fan of the FULL FAT, ALL BUTTER and ALL CREAM version, but if you can lighten it up, why not??!!The sauce was not as thick as the original. But it was equally as tasty! I didn't feel guilty after scarfing down a nice big bowl!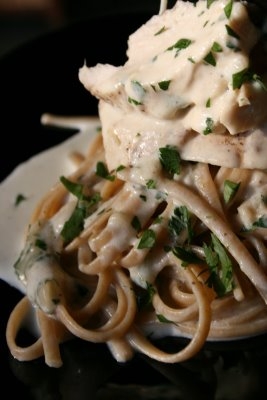 Chicken Fettuccine Alfredo
Ingredients
6 medium garlic cloves, peeled and smashed with a knife
1 lb skinless, boneless chicken breasts, washed and patted dry(four 4 oz pieces)
1 tsp salt
1 tsp freshly ground black pepper
Cooking Spray
1/2 cup chicken stock
1/4 cup heavy cream
1/4 cup whole milk plain yogurt, Greek-Style
salt..for cooking pasta
8 oz uncooked whole wheat fettuccine
1/2 cup grated Parmesan Cheese
1/4 cup parsley, fresh, flat leaf, finely chopped
Instructions
Heat large, heavy skillet over medium heat. Rub garlic over chicken, reserve garlic. Season chicken with salt and pepper and rub it in the chicken. Coat skillet w/ cooking spray and then set over medium heat. Saute garlic until fragrant. about 1 minute. Add chicken and cook until golden, flipping once, about 5 minutes per side. In a small bowl, combine broth, heavy cream and yogurt: pour over chicken and scrape the bottom of the skillet to incorporate seasonings. Simmer chicken gently, turning once, about 30 minutes.Meanwhile, bring a medium pot of salted water to a boil and cook pasta according to package directions; drain. Remove chicken from cream sauce and set aside. Add Parmesan cheese to cream mixture and mix until well combined. Add cooked pasta and 3 Tbsp of parsley; toss well. Serve pasta topped w/ chicken and the rest of the parsley.
Points value: 9
Prep time: 12 minutes
Serves: 4
The Stressed Baker for another set of memes! You can see the rules here at her site. On this set of memes I have to tell you all 6 random things about me..my goodness I could tell you a million..but here are 6 not so interesting thins about me..
1…I am terrified of heights.
2…I graduated from nursing school, but never work a day as a nurse after realizing that I am a germ-a-phob
3…I have never been in a fight with any of my friends..I am a lover
4…I hate scary movies..my imagination goes wild..I swear Jason Myers and Freddy Kruger are real and they must life on my street and only come out at night!
5…I am a hotel snob
6…My right eye is blue with 1/4 perfect pie shape in it that is brown
Well thats it..gripping huh?
I am going to keep this in the Daring Bakers Ring..I am randomly going to pick 6 of my DB's to get to know better.
http://pamelaskitchen.blogspot.com/
http://novice-baker.blogspot.com/
http://www.cupcake-corner.blogspot.com/
http://www.butterandsugar.org/blog/
http://vanillabasil.blogspot.com/