Please Please no autographs..I know I deserve an Oscar for my performance!LOL LOL
Again..I know I am a dork..so no need for anyone to point out the obvious!!!
Sorry for my lack of editing skills on my videos..I honestly haven't figured out how to do it!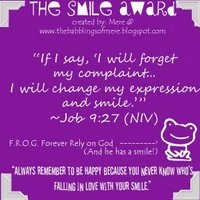 Thank you soooo much to Jenny at the Picky Palate for passing on the smile award to me!!!
I love her blog..I was reading it well before I started my blog of my own..she was and is one of my inspirations!
Here is the list of 5 blogs that I am passing the award onto..
1..Sophie @ Flour Arrangements..Her blog is honest and delicious. she always makes food that is inviting and lovely.
2.Cookie Madness..If you are looking for a cookie recipe of any kind …you WILL find it here!What a wonderful blog.There are deserts other than cookies and everything looks wonderful.
3.Prudy @ prudencepennywise. She has family friendly meals that look delish. And I love love love how she puts the estimated cost for each dish! Very Clever
4.Lori @ The Recipegirl…Drool drool drool..seriously take a look at her blog and you will salivate at all her neat ideas!
5.Lisa @ jerseygirlcooks… After I saw the 5 pound Lobster on her site I was hooked..I am jealous of her divine seafood dishes. My family doesn't eat seafood, so I go to her site to cry!
The rules are listed here.
And the creator of the award is Mere