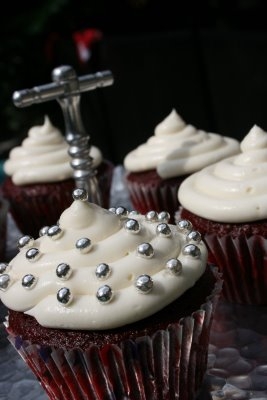 This might come to a shock to some of you..but..No Red Velvet of any kind has ever touched my lips! Shocking I know! I am not sure how it has missed the reach of my hands. But nope, never had it. Back in June I saw a beautiful photo of some Red Velvet Cupcakes over on Em's site..
So today I was aching to bake something..seems like I have that ache everyday!
Well, they were really easy to whip up. It only took a few minutes from the time I started to get them in the oven. I seem to have a sinking in the middle cupcake issue, so I was pleasantly surprised to see when I pulled them out of the oven they didn't sink in the middle. YEAH!
The cream Cheese frosting is OUT OF THIS WORLD! While I was decorating the cupcakes it went like this…one squirt for the cupcakes…one big squirt in the mouth for me! Oh its that good!
I am not the Red Velvet expert, but this one is a keeper!
P.S…Happy Birthday to EM..stop by her
site
and wish her Happy Birthday!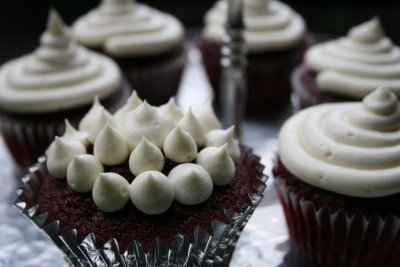 RED VELVET CUPCAKES with CREAM CHEESE FROSTING
1c cake flour
1/3c cocoa
1/2tsp salt
2/3c vegetable oil
3/4c sugar
1 egg
1oz (2T) red food coloring
1/2tsp vanilla
1/2c buttermilk
1/2tsp baking soda
3/4tsp white vinegar
Directions
Preheat oven to 350 degrees.Line12-cupcake pans with cupcake liners and spray with cooking spray.Whisk cake flour, cocoa and salt in a bowl.Place oil and sugar in bowl of an electric mixer and beat at medium speed until well-blended. Beat in eggs one at a time.With machine on low, very slowly add red food coloring . Add vanilla. Add flour mixture alternately with buttermilk in two batches. Scrape down bowl and beat just long enough to combine.Place baking soda in a small dish, stir in vinegar and add to batter with machine running. Beat for 10 seconds.Divide batter among 12-cupcake pans, filling each about 2/3 full.
Bake for 25-30 minutes, until a toothpick inserted comes out clean.
(Mine cooked for 23 minutes.)
Em's Magnificent Cream Cheese Icing
8oz pkg of cream cheese – room temperature, divided in three parts
2 tablespoons unsalted butter – COLD
1 tablespoon shortening1/2 teaspoon vanilla extract
1 cup powdered sugar
Directions
Beat sugar and butter in large bowl until light and fluffy. Add vanilla and combine very well. Add the first third of the cream cheese and combine very well. Add the shortening and combine very well. Add the remaining cream cheese one piece at a time, combining very well after each.