Even though my children don't like rice..I have to do my part as a responsible parent and cook it and put it on their plate! Do they eat it?? Hell no! So needless to say I often have a bunch of leftovers. I was left with exactly 2 cups of brown rice. I'll throw it away..then I heard of voice of my past(mother).."eat your food, there are starving children in China." SO it sat there on the stove until I figured out its fate!
Oh wait I cook all my rice and couscous in chicken stock(gives it much more flavor). Oh no I didn't..not tonight. I used my last drop of chicken stock on my Chicken
Piccata
. So I used plain water to cook the rice..so there was a green light for the Rice
Puddin
!!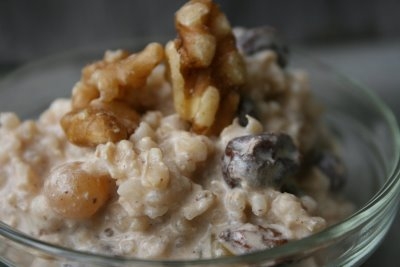 Left over rice? Make Rice pudding!!!!!
Author:
Leslie Green-The Hungry Housewife
Recipe type:
Breakfast,Dessert
Prep time:
Cook time:
Total time:
Make Rice Pudding with Left-over rice
Ingredients
2 cups cooked rice (brown or white)
about 3 cups milk
½ cup splenda or sugar
⅛ tsp salt
1½ tsp vanilla
½ cup raisins or fruit of choice..I used Regular and golden raisins
Spices to taste …like cinnamon, nutmeg, all spice..etc
Walnuts for a crunch if you like
Instructions
All add ingredients to the cooked rice except the spices and bring to a boil.
Boil for a few minutes and then cook until most of the milk is absorbed.
Once you get to your desired consistency, add your spices.
Add the nuts if you want.
Serve hot or cold! Its was yummy either way!