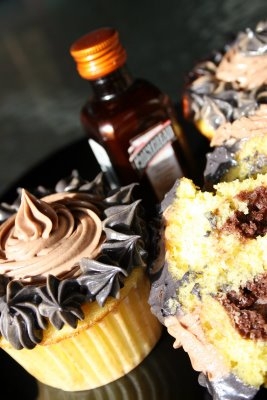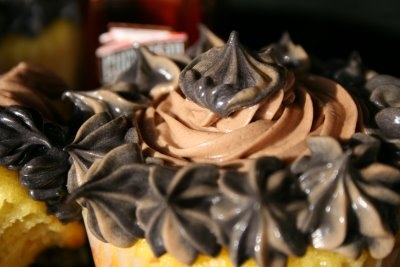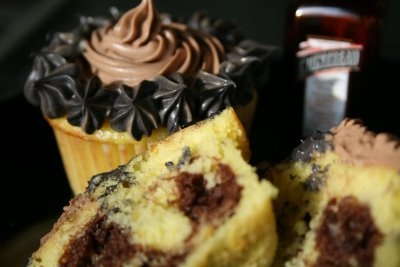 My best friend Bobbi had a little mid summer pool party at her house for all the kiddos. One of her friends Diane brought some cupcakes. She said they were orange and chocolate. I am NOT a big fan of chocolate and orange together. I think my dislike of the combo comes from those nasty chocolate orange chocolates that you peel like an orange..I have no clue what its name is. But me pass up on a cupcake, that will never happen in this lifetime!! I took the first bite and thought, hmmmmm….interesting. I wasn't sure if I like them or not. I took the second bite(because you can never let food go to waste)..and I was hooked! They are so very divine! You could taste the Triple Sec in the frosting. And the miniature of the orange cake and the chocolate cake was Evil!!
Diane got the recipe from the Cake Doctor book.
When I was making them, my husband tasted the frosting and said with his brow ruffled..ewww what is that??? I frosted a cupcake for him and told him he couldn't eat the frosting alone. He reluctantly tasted the entire goodie..and after his bite, he loved them! They are strange little things…I think that they are 2 bite cupcakes..they take 2 bites for you to get the full effect of the flavors! But my my my they are soooo good!!
I call them evil because when I was piping the frosting on them..they just looked kinda evil! Who knows..I'm just weird!
ORANGE SWIRL CHOCOLATE CUPCAKES WITH ORANGE COCOA CREAM CHEESE FROSTING


Cupcakes

24 paper liners
1 pkg. Fudge marble Cake mix
1 1/3 cup orange juice
1/3 cup veggie oil
3 large eggs
1 tsp. grated orange zest
Preheat oven to 350, line 24 muffin tins w/ paper liners
Place cake mix, orange juice,oil and eggs in a large bowl. Blend w/ electric mixer on low speed for 1 minute. Scrape sides if needed. Increase speed to medium and beat 1 1/2 minutes more. The batter should be combined. Measure out 1 cup of the batter into a medium bowl and set aside. Add the orange zest to the remaining batter in the large bowl. Mix on low speed for 30 seconds. Add the chocolate package from the cake mix to the 1 cup of batter you reserved and mix on low until combined.
Spoon the plain orange batter into the muffin cups, filling 2/3 of the way full. Spoon a heaping teaspoon of the chocolate batter on top of each cupcake. Swirl the chocolate batter into the orange batter w/ a knife or toothpick, creating a marbled effect. Place pans in the oven.
Back the cupcakes until they spring back; 18-22 minutes.(mine only took 16 minutes only after the 2nd batch..my first batch burned at 18 minutes). Let them cool completely before frosting.
ORANGE COCOA CREAM CHEESE FROSTING


8 ounces cream cheese — at room temperature
4 tablespoons butter — at room temperature[1/2 stick]
1/4 cup unsweetened cocoa powder
1 teaspoon pure orange extract
3 3/4 cups confectioners' sugar — sifted
1 tablespoon orange liqueur — (1 to 2 tablespoons) such as Grand Marnier, Cointreau or Triple Sec
Place the cream cheese and butter in a large mixing bowl. Blend with an electric mixer on low speed until fluffy, 30 seconds. Stop the machine and add the cocoa powder, orange extract, confectioners' sugar and 1 tablespoon orange liqueur. Blend with the mixer on low speed until the sugar is well combined, 1 minute. Increase the speed to medium and beat until light and fluffy, 1 minute more. If the frosting seems too stiff, blend in another 1 tablespoon liqueur. Use to frost the top and sides of the cake or cupcakes of your choice. Makes 3 1/2 cups; enough to frost a 2- or 3-layer cake or 36 cupcakes