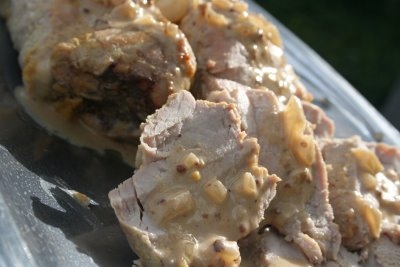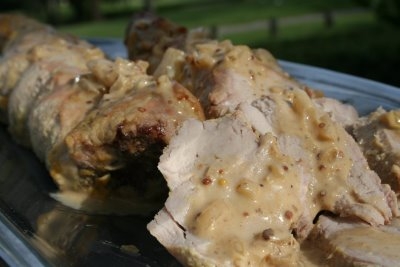 This is seriously some super tasty Pig! The meat itself is nice and tender. The sauce is to die for! I poured it over my whole dinner plate, including my couscous and broccoli! It could definitely pass for a restaurant dish! If your in a time crunch this is a great meal. It takes no time at all to prepare. Just make sure you get a good quality pork tenderloin. Not the popular supermarket brand on the top shelf(a.k.a Hormel)!! Yuck! Sorry, not a very photogenic dish! But enjoy this one..its a keeper!
PORK TENDERLOIN WITH DIJON MARSALA SAUCE
For the pork
2 pork tenderloins
4 tablespoons Dijon mustard ( I used Grey Poupon Original Dijon)
1 tablespoon oil
Sauce
2 tablespoons butter
2 shallots, minced
1 cup Marsala wine
1 tablespoon Dijon mustard (I used Grey Poupon Harvest Coarse Ground)
1 cup heavy cream
Salt and Pepper to taste
Directions
Preheat oven to 350 degrees F (175 degrees C). Coat pork tenderloins generously with mustard. Oil a 9×13 inch baking dish.
Heat oil in a large skillet over medium-high heat. Arrange tenderloins in pan, and brown the meat. Turn to brown evenly. Transfer meat to prepared baking dish.
Bake in preheated oven for 20 minutes. Turn, and continue cooking for 20 minutes, or until desired doneness.
Meanwhile, melt butter over medium heat in the same pan used to cook the pork. Cook shallots in butter until soft. Stir in Marsala, mustard, and cream, and cook until volume of liquid is reduced by half.
Slice pork, and place on a serving dish. Spoon sauce over meat, and serve.