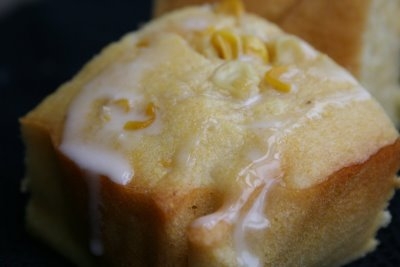 I must have been super out of it the other night..while cleaning up from dinner I realized I left my ear of corn on the stove. I clearly saw my whole family eating their corn..but I never thought..mmmmm..where is my corny goodness. Maybe it was my ass telling me to slowly step away from the carbs. Regardless of my lack of brain, in good conscious I couldn't throw it away. So like the foodie I am, I instantly started thinking what I could bake with it. The easiest solution was cornbread! Not the jalapeno kind..but sweet cornbread! I know sweet cornbread is not authentic, but I like mine sweet so I'm gonna make it sweet damn it!
This ain't no Jiffy cornbread mix y'all!!!! This southern dish is for you Peter

SWEET CORNY CORNBREAD with HONEY GLAZE
1/4 pound butter
2/3 cup white sugar
2 eggs
1 cup buttermilk
1/2 teaspoon baking soda
1 cup cornmeal
1 cup all-purpose flour
1/2 teaspoon salt
1 ear of corn (kernels cut of cob)
Preheat oven to 375 degrees F (175 degrees C). Grease an 8 inch square pan.
Melt butter in large skillet. Remove from heat and stir in sugar. Quickly add eggs and beat until well blended. Combine buttermilk with baking soda and stir into mixture in pan. Stir in cornmeal, flour, and salt until well blended and few lumps remain. Stir in corn kernels. Pour batter into the prepared pan.
Bake in the preheated oven for 30 to 40 minutes, or until a toothpick inserted in the center comes out clean.
HONEY GLAZE

1 cup confectioners sugar
2 tablespoons honey
2 tablespoons milk
combine all ingredients and stir until smooth
Pour glaze over cornbread…mmmmm …if you let it sit overnight the glaze will just soak into the cornbread and make it super moist!!!