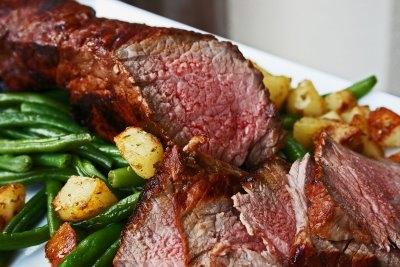 My Brother-In-Law John told me this morning he was very disappointed the I had never posted a "Beef" dish.(visit him @
Stanton's Space
) I know it seems like I only cook chicken in my house, but that is far from the truth! I am a steak and Potato kinda girl! I love love love red meat. And I like it rare! Cut off its horns, wipe its ass and put it on my plate!Yep that's how I like it. My husband likes it cooked to shoe leather. Like, whats the point of eating a fine piece of meat if you are going to KILL it??? But to each their own. I actually have him eating it Medium well now! OOOHHHH go me!! Again as I said before I am limited in my dinner photography because I rely on natural light. And dinner time=crappy lighting!
Well this is for you John..a mighty yummy piece of London Broil. I remember my mom always making London Broil and marinating it Wishbone Italian Dressing. While it is great like that, I had to find some alternate way to marinate it! And the search began…
Marinated London Broil
1 (2 1/2 pound) tri-tip London Broil or flank steak
1/4 cup red wine vinegar
1/4 cup dry red wine
2 tablespoon olive oil
2 tablespoons Worcestershire sauce
2 tablespoons soy sauce
2 tablespoon Creole mustard, or other spicy whole-grain mustard
1 tablespoon Essence
1 teaspoon coarsely ground black pepper
4 cloves garlic, smashed
Place the flank steak in a large, plastic resealable bag. In a large, glass measuring cup, combine red wine vinegar, red wine, olive oil, Worcestershire, soy sauce, mustard, essence, salt, pepper, and garlic. Pour the marinade into the bag with the steak, seal and place inside a large, glass baking dish to prevent possible spills. Marinate in the refrigerator for 24 hours (or at least 6 hours). Preheat a gas or charcoal grill to high heat. (Alternately, preheat the broiler). Remove the steak from the marinade and pat dry with paper towels. Place the steak on the grill (or under the broiler) and cook to desired doneness, about 6 minutes per side for rare. Transfer the steak to a cutting board and let stand for 5 minutes before carving. Slice across the grain into thin diagonal slices.
Make sure you ALWAYS cut AGAINST the grain. If you cut along the grain, you will feel like you are chewing on a rubber band! No so good!!!
I paired the steak with simple fresh green beans with salt and pepper. And also Pan Rosemary Potatoes, that I saute in butter and olive oil with some season salt, rosemary, garlic powder and onion powder until fork tender!
Simple dinner..DONE