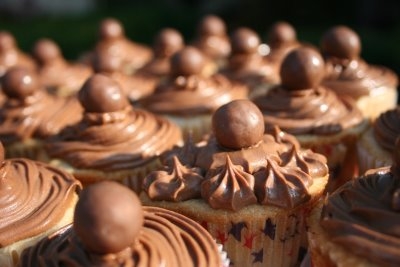 In my endless pursuit to search the entire food blog word, I landed on the cutest site
Peanut Butter And Julie
. Her food are just beautiful and she is a fellow
Daring Baker
. I saw
this
recipe on her site and I just knew I had to make it. I love Love Whoppers. And it I had a jar of Malted milk Powder that needed to be used!These are probably in my top 5 favorite cupcakes now. The cake is very delicate, not spongy or dense like others. And they have the slightest spice flavor in them with the nuttiness of the malted milk powder! My sister Erika who has been a self professed life long Nutmeg hatter! I had her try these
before
she knew there was nutmeg in them. She loved them! I said, HA there is nutmeg in there. Perplexed, she said "may be I
do
like nutmeg after all!
Makes about 30 cupcakes
Ingredients:
For the cupcakes
2 cups cake flour
1 cup flour
1 cup malted-milk powder
1 tablespoon baking powder
1/4 teaspoon baking soda
1 teaspoon salt
1/4 teaspoon ground cinnamon
1/4 teaspoon ground nutmeg
8 tablespoons butter, softened
1/2 cup solid vegetable shortening, softened
2 cups sugar
1 tablespoon vanilla extract
2 cups cold water
4 large egg whites, room temperature
For the frosting
1 pound butter, softened
3 tablespoons heavy cream
12 ounces bittersweet chocolate, melted and cooled to lukewarm
2 teaspoons vanilla extract
3 cups confectioners' sugar
Malted milk balls for garnish
Preheat the oven to 325F degrees. Place 2 oven racks in the upper and lower thirds of the oven. Line 2 cupcake tins with 24 cupcake liners and spray them with nonstick spray.
In a large bowl, whisk together the flours, malted milk powder, baking powder, baking soda, salt, cinnamon, and nutmeg. In the bowl of an electric mixer fitted with the paddle attachment, cream together the butter and shortening at medium speed. Slowly add the sugar and vanilla and beat at medium speed until fluffy, about 3 minutes. Beat in the dry ingredients in 3 additions, alternating with the ice water and occasionally scraping down the sides of the bowl.
In a clean bowl, beat the egg whites at medium-high speed until soft peaks form. Fold the egg whites into the batter. Fill the cupcake liners a little more than halfway with the batter. Bake the cupcakes for 20-22 minutes, switching positions halfway through, until they are golden and a toothpick inserted into the center emerges clean. Let the cupcakes cool in the tins for 10 minutes and then transfer them to a rack to cool completely. Repeat the baking process with any remaining batter.
Prepare the frosting: In the bowl of an electric mixer fitted with the paddle attachment, beat the butter until creamy, about 3 minutes. Add the cream and beat until smooth. Add the melted chocolate and beat for 2 minutes, scraping down the sides of the bowl as necessary. Beat in the vanilla extract. Gradually add the sugar and beat on low speed until creamy and of desired consistency.
Ice them how you see fit,,however you want them to look!
Top the cupcakes with malted milk balls.