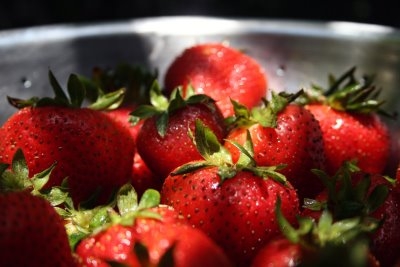 Ok
, ENOUGH is ENOUGH…enough of the healthy food, lets get back to the butter, lard and cholesterol elevating food!!!! Lets talk about how we can make a bowl of delicious and healthy for you Strawberries shorten the length of you life!! He he!! The best person to look towards for this advice is Paula
Deen
. She is the queen of yummy, not so good for you food and I just love it all!! I have
rarely
had a bad Paula
Deen
recipe! I might have baked these about 2 minutes too long. So watch your baking time!! If you are having a sweet tooth, this is the recipe for you. These are REALLY sweet!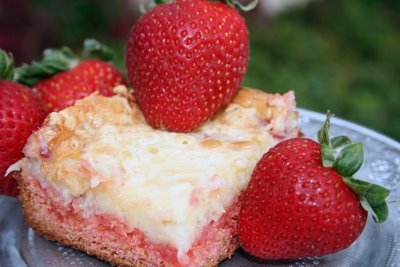 Strawberry Ooey Gooey Butter Cake
1 (18 1/4 ounce) package strawberry cake
1/2 cup butter, softened
4 large eggs, divided
1 (8 ounce) package cream cheese, softened
1 (16 ounce) box confectioners' sugar
3/4 cup chopped fresh strawberry
sweetened whipped cream(optional)
Strawberry for garnish garnish(optional)
Directions
1 Preheat oven to 350°.
2 Lightly grease a 13×9-inch baking pan.
3 In a large bowl, combine cake mix, butter, and 1 egg.
4 Press mixture into bottom of prepared pan.
5 In a separate large bowl, beat cream cheese and 3 eggs at medium speed with an electric mixer until smooth.
6 Gradually beat in confectioners¹ sugar until combined.
7 Stir in strawberries.
8 Spoon mixture over cake mixture; bake for 35 to 40 minutes, or until center is set.
9 Cool completely; cut into squares to serve.
10 Garnish with sweetened whipped cream and strawberries, if desired.