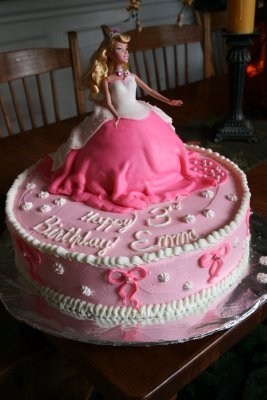 What a pain in the butt, that damn Sleeping Beauty!! Well my daughter who turns 3 today has been talking about having a Sleeping Beauty Birthday Party since she was 2! Seriously, she mentions it a few times a week! She has an unhealthy obsession with Sleeping Beauty and ALL(and I mean all) things Pink!!! I had this crazy idea one day that I was going to make her birthday cake instead of doing the sensible thing and calling Publix and ordering one! I also though it would be cheaper making one myself. Ha! Boy was I wrong!
This cake was a whole bunch of firsts for me. First time making and using fondant, using any icing tip other than for writing on a generic cake, making a cake this size.. etc..! I would hate to think how much this cake cost me. I didn't have any supplies to make this mammoth cake! No pan, no tips, etc. I had a vision on what I wanted the cake to look like , but I had NO CLUE on how to execute it! Let me tell you..I lost sleep over this one folks!!!! I had to research fondant, butter cream, cake filling, baking a 16″ round double layer cake, the whole Barbie on top thing. Well lets just say I knew NOTHING!! And who knew those silver dragee balls would be so hard to find. Seems like the states of California has deemed the non-safe!
After countless hours of research on the web. I had my plan of attack. It took me a few days in stages to make this massive cake! First I made the Sleeping Beauties part of the cake. I purchased the Wilton Wonder mold for the bottom of her dress. I choose a Strawberry cake for her dress. I had to take her legs off to shove her in the cake formed like the bottom of her dress. I covered the skirt part with fondant and other decorations. And covered her boobies with fondant too.
Then the bottom cake was a standard yellow cake with Butter cream icing and a strawberry filling! Everything was edible on the cake(except for Sleeping Beauties upper body).
I have to say, all and all I am very pleased with the final product, especially since it was my first cake! Next time, I think I will take the easy non stressful route and call the bakery!!
Well here is her photo shoot!