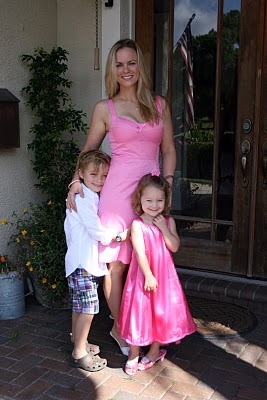 Off to Tea
My friend Bobbi asked me yesterday..Do you want to take the girls for tea? Why not..tea is fun!
I love going to the Tea Rooms around town. When I asked my daughter if she wanted to go..my son also begged to go. Hmmm? Why not I thought. Bobbi had a good experience with
The Hyde Park Tea Cottage.

Its a very cute old little Bungalow Style house that was very popular in Old Tampa. We were greeted with the hostess opening the door for us. And showed us to our room.
The Whimsical Room
is where we were sat. It was very quaint and geared towards the little ones. They were served "tea" (Hawaiian Punch) in real china. They just ate it up. My little one was feeling a bit off today so she wasn't really into it..maybe its just her age. My son on the other hand thought it was great! On their 3 tiered serving tray was an assortment of the cutest little foods. The owner had made up little Strawberries in the shape of a mouse, they were just darling. Of course my kids didn't eat anything. Come one it wasn't hot dogs or french fries!
All of the "adult food" was delish! We were served the most wonderful potato soup! And the egg salad sandwich on the croissant was yummo.
The owner came in often to check on us. And she even tried to get the kiddos to act like proper ladies and gentlemen…HA! As I almost spit my drink out of my mouth! I probably should have sent my kids to etiquette school before going to tea!!!!!!!!!!!!
We had a wonderful time at tea and it has inspired me to make some sort of scones. So be on the look out for those!