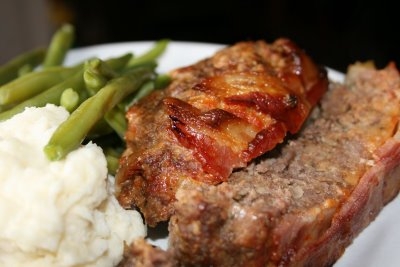 The way to a mans heart is through his stomach..right? Well letting him sleep in on Fathers Day helps as well. And just figures the kids got up at 6:30..so there was no sleeping in for me. Keeping them quite so their daddy could sleep a little later than usual was another issue for me!
Well I knew I had to make all my husbands favorites today. Breakfast..Blueberry Pancakes(which I will post about later..cause I am just too darn tired tonight to post a long post about a whole days worth of food)! Lunch..just a simple turkey sandwich
And the manly of all manly dinners…Meatloaf and mashed potatoes!
Meatloaf gets such a bad wrap! Try it my way and it will be one of your new favorites!!!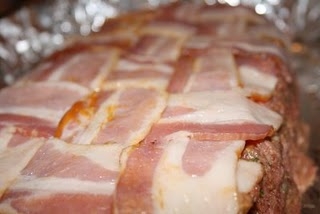 I am such a dork! Seriously, who basket weaves their bacon on top of their meatloaf?? Me!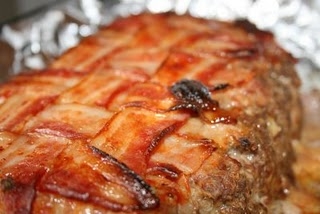 Super Moist Meatloaf
2 lbs organic ground beef 80/20
2 tsp kosher salt
3/4 Tbsp fresh ground pepper
2 eggs lightly beaten
3/4 Italian bread crumbs
1/2 cup milk
1 tsp Worcestershire sauce
1/2 large onion chopped fine
Topping
3 Tbsp ketchup
3 Tbsp yellow mustard
1/2 lb bacon
Preheat oven to 350.
Saute onion in olive oil for about 5-8 minutes until transparent
Mix all ingredients for meatloaf until incorporated. Don't over handle or it might become tough!
Form into loaf shape in 9×13 pan lined with non stick foil
For the topping..mix ketchup and mustard together and smooth over top and sides of meatloaf.
Cover the entire top of loaf with the bacon!(YUM)
Bake for 1 1/4 hours and let rest for about 5-10 minutes before slicing.
3 lbs red
potatoes
peeled
4 oz cream cheese
1 stick butter
Salt and Pepper to taste
milk to desired
consistency
Boil potatoes until tender…drain…while potatoes are draining, heat butter and cream cheese until smooth. Place the
potatoes
in a
ricer
. Rice them into the sauce pan with the butter and cream cheese and mix until smooth. Add milk to desired
consistency
. Add salt and pepper to taste.
**I named then Angel Mashed Potatoes because last Thanksgiving, my brother in law Steve described them as Angels landing on a white cloud!