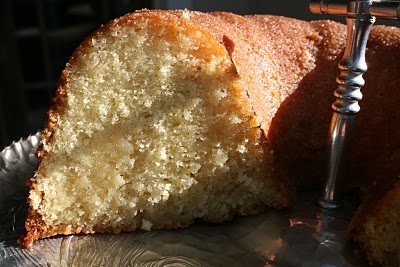 For real ya'll, don't send me any cardiologist bills if you choose to make and eat this cake! Its a killer! And let me tell you it just melts in your mouth. Could it be from the nearly POUND of butter in this heart attack cake? I just can not explain to you how delicious this baked good was. You will just have to try it for yourself! Again I am not responsible for any medical costs due to raised cholesterol levels!!!!I found this bad boy on All Recipes . But tweeked it a bit.
The pictures soooooooo don't do it justice. I didn't have the heart to tell the pour little cake it wasn't very photogenic!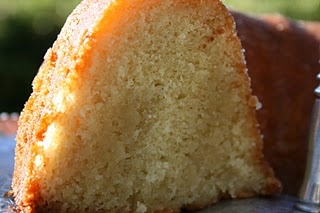 3 cups unbleached all-purpose flour
2 cups white sugar
1 teaspoon salt
1 teaspoon baking powder
1/2 teaspoon baking soda
1 cup buttermilk
1 cup butter
1 teaspoons vanilla extract
1 teaspoon Vanilla butter nut extract
4 eggs
GLAZE:
1 1/2 cup white sugar
2/3 cup butter
6 tablespoons water
4 teaspoons vanilla extract
Preheat oven to 325 degrees F (165 degrees C). Grease and flour a 10 inch Bundt pan.
In a large bowl, mix the flour, 2 cups sugar, salt, baking powder and baking soda. Blend in buttermilk, 1 cup of butter, 2 teaspoons of extracts and 4 eggs. Beat for 3 minutes at medium speed. Pour batter into prepared pan.
To make Butter Sauce: Combine all ingredients for the sauce in a saucepan, and cook over medium heat, until fully melted and combined. DONT BOIL
Bake in preheated oven for 60 minutes, or until a wooden toothpick inserted into center of cake comes out clean. Poke a bunch of holes in the still warm cake. Slowly pour 1/2 of the sauce over cake. Let cake cool before removing from pan. Carefully take a knife and run it around the edge of the cake in the pan to help loosen it, invert the cake onto a wire rack. Poke more hole onto the top of the cake(lots of holes, and make sure they are big enough so the glaze will soak through). Now pour the remaining 1/2 of the glaze over the top of the cake. And your done.
Betcha cant wait for the cake to cool before you slice into it!