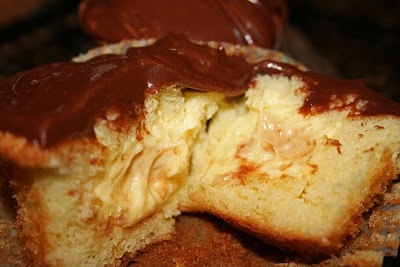 Man, those pesky grocery stores know what they are doing. You know, how they strategically place all of those have to have but don't need items up at the check out. Like the purse size tissues, breath spray, finger nail files, eyeglass screwdrivers, as seen on TV furniture movers and oh yeah, those damn Food based magazines. I know all of you foodies have noticed the Paula Deen's Chocolate Celebration magazine. My first trip to the grocery I picked it up and put it back down because of the $8.99 price tag. But my second trip, I was weak, very very weak. I threw it up on the conveyor at the last second. I am glad I did, there are sooooo many yummy looking chocolate goodies in there. Well my sister Erika picked up the magazine while at my house and requested I make her the Boston Cream Cupcakes. Request and I shall make!!!!!!
BOSTON CREAM CUPCAKES
1 (18.25 oz) box yellow cake mix
1 (3.4 oz) box instant vanilla pudding mix
1 1/2 cups heavy whipping cream
1/2 cup powdered sugar
1/2 cup milk
1/4 cup sour cream
Prepare cupcake per box directions. Let them cool completely
In a large bowl, combine pudding mix, cream,powdered sugar, milk and sour cream. Beat at medium speed until stiff peaks form.
Now you have two options in getting that delicious cream into the cupcakes.
-AS WRITTEN-Spoon mixture into a squeeze bottle with a long narrow tip. Insert into top of cupcake,, and squeeze about 1 tablespoon pudding mixture into center of cupcake.
-WHAT I DID- I took a paring knife and cut a hole into the top of the cupcake, almost reaching the bottom and pulled the piece out of the cupcake. Then I put the pudding mixture into a ziplock bag snipped the bottom and filled the cupcake up! Them I trimmed the piece I cut out just so it wasn't so long and it fit on top of the cupcake with out sticking out of the top too much.
SINFUL CHOCOLATE GANACHE
6 (1oz) squares semisweet chocolate
3/4 cup heavy whipping cream
2 cups powdered sugar
In medium bowl, combine chocolate and cream. Microwave on high in 30 second intervals, stirring between each, until the chocolate is melted and smooth( about 2 minutes). Gradually whisk in powdered sugar until smooth. Let mixture cool until it reaches a spreadable consistency(about 30 minutes).