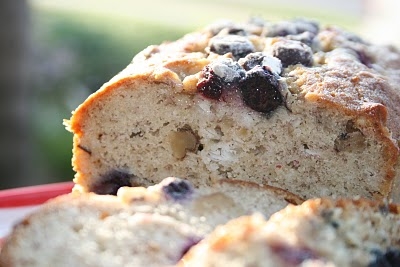 I know I know..People can get really defensive about their own Banana Bread. But I have tasted some peoples(who will remain nameless) who claim theirs is the best..and only when I tasted it I wish I had a dog to slide it under the table to! My mom gave me a basic banana bread recipe some years ago. It was the best I had ever tasted. Sooooo, off of that basic recipe I have built the Ultimate Banana Bread..my secret ingredients are..Toasted walnuts, coconut and blueberries.
Not to toot my own horn..but is has been proclaimed to be the best banana bread many people have ever tasted! And I often get request for my SUPER moist, SUPER bananaee, SUPER delicious bread! So here goes for all of the world to have it. Once you make this you will have a hard time going back to any other recipe.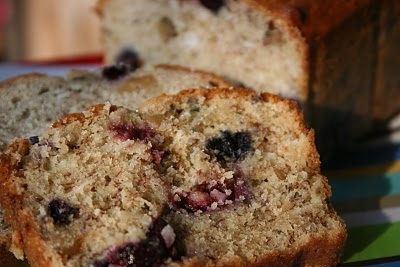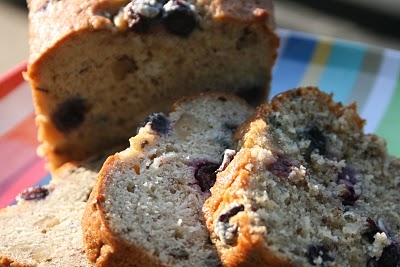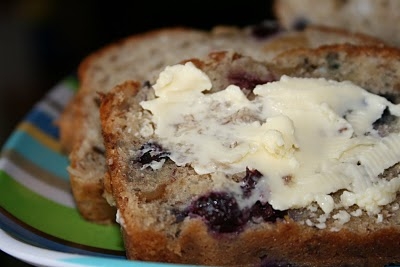 EVERYTHING IS BETTER WITH BUTTER!!!!!!!!!!!
Banana Bread Perfected!!! (in my opinion)
Prep time:
Cook time:
Total time:
A moist Banana Bread
Ingredients
½ cup softened butter
1 cup sugar
2 cups ap flour
1 tsp salt
2 tsp baking powder
½ tsp baking soda
2 eggs
4 large nasty looking ripe bananas. smooshed up real good
⅓ cup buttermilk
¾ to 1 cup toasted walnuts
1 Tbsp vanilla
1 cup coconut
¾ cup blueberries
Instructions
Preheat oven to 350
Lightly grease TWO 8in x 3¾in x 2½in pans( I use the Hefty EZ elegance pans)
Cream together butter and sugar with hand mixer or stand mixer.
Add egg one at a time, mixing well in between each addition.
In a separate bowl whisk together flour, salt, baking pwdr and baking soda.
Slowly add the dry ingredients to the butter mixture, alternating with the buttermilk..always start and end with the flour.
Add bananas, vanilla, nuts and coconut and stir until combined. Fold in blueberries.
Pour the batter into both pans evenly. Sprinkle some blueberries on top for a garnish.
Bake for 45-55 minutes or until toothpick comes out of the center with only slight crumbs on it.
Try to let it cool before cutting into it..but I can never wait that long before digging in and slathering some butter on it!
Tips***
Notes
To toast the walnuts, just place in large skillet over medium heat and cook until fragrant and lightly browned, stirring occasionally. Usually around 5 to 8 minutes. I use the two smaller pans because I found that if you make one large loaf the bottom tends to burn before the middle is done. And besides 2 loafs is better than one.