These are little pieces of heaven with some blueberries thrown in! I know for me, sometimes I am in the mood for something sweet, but not too sweet. These fit the bill. Before I made them I just thought that they would be your average sugary cheesecake treat. Well, much to my surprise they were much the opposite! The actual "cheesecake" is not sweet at all. Just a very mild creamy taste. Now when you bite into the blueberries, they give it a lovely fresh taste. When my sister took her first bite into these..I heard a "POP" and blueberry juice went flying over 3 feet away..onto her stove and in her grout( I have yet to ask if she got the stain out of the grout). Well my favorite part was the crust..oh the crust. It was nutty and buttery with flakes of coconut throughout! My , my , my was it ever yummy! I have had this recipe for a while,,but I really didnt feel like taking a second mortage on my house to buy the blueberries! $5 for a little tiny package..are you freakin kidding me??? I waiting until my sister went blueberry picking…..U-Pick fruits is the WAY TO GO! Thanks Erika!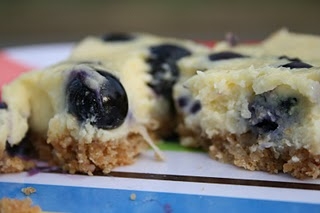 WIll you just take a look at this crust in the making! YUM YUM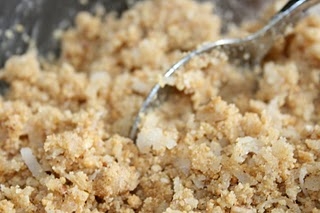 COCONUT-BLUEBERRY CHEESECAKE BARS
1/2 cup butter
3/4 cup finely crushed graham crackers
1/2 cup all-purpose flour
1/2 cup flaked coconut
1/2 cup ground pecans
1/4 cup sugar
1-1/2 8-oz. pkg. cream cheese, softened
2/3 cup sugar
4 eggs
1 Tbsp. brandy or milk
1 tsp. vanilla
2 cup blueberries
Directions
1. Preheat oven to 350 degrees F. Lightly grease a 13x9x2-inch baking pan; set aside.
2. For crust, in a small saucepan heat butter over medium heat until the color of light brownsugar. Remove from heat; set aside.
3. In medium bowl stir together graham crackers, flour, coconut, pecans, and 1/4 cup sugar. Stir in butter until combined. Evenly press on bottom of prepared pan. Bake 8 to 10 minutes or until lightly browned.
4. Meanwhile, in large mixing bowl beat cream cheese and 2/3 cup sugar on medium until combined. Add eggs, brandy, and vanilla. Beat until combined. Pour over hot crust. Sprinkle with blueberries.
5. Bake 18 to 20 minutes or until center appears set. Cool in pan on rack. Cover and refrigerate. Cut into bars. Store, covered, in refrigerator. Makes about 32 bars.
I discovered this in Better Homes and Gardens