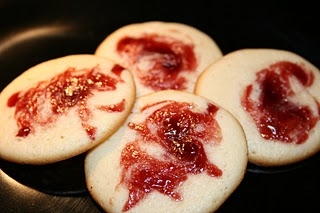 Again..while aimlessly browsing in the food blog world on night I can across a recipe for Cheesecake Cookies at http://bakingsheet.blogspot.com/2006/01/chewy-cheesecake-cookies.html. I made a few to see if I liked them. They were(like the banana cookies I made before) very cake like. They did have a hint of cheesecake flavor..just a bit of tang from the cream cheese. Like always , my husband was hovering over my shoulder and said, "Why dont you spread some jelly on the top?" My instant response was, in a smart tone…"Do you want to bake them!?" Very well knowing I would NEVER let him attempt baking in fear the house would catch on fire!
So with my next batch, prior to baking them, I put a dab of Strawberry jam on top on swirled it around with a toothpick. That little addition from my hubby made these little cakey cookies extra special! I sent them to the office the next day. We had a power outage..and miraculously when the lights came on..all the cookies were gone! Hmmmm..funny how that happens!
Strawberry Cheesecake Cookies
½ cup cream cheese, soft
½ cup butter, soft
1 cup sugar
1 egg
¼ tsp salt
¼ tsp baking powder
1 cup flour
Jam(what ever flavor you fancy)
Preheat oven to 350F. Line a baking sheet with parchment paper.In a large bowl, beat together butter and cream cheese. Gradually beat in sugar at medium speed until light and fluffy. Beat in egg and salt.Whisk together baking powder and flour in a small bowl and, mixing by hand or at low speed, add to cream cheese mixture.Drop by rounded tablespoonfuls onto prepared baking sheet.Bake at 350 for 12-14 minutes, until the bottom edge just barely turns brown.Makes about 3 dozen.