You have to say this recipe with a southern twang…
HAM STEAK WITH CREAMY CHEESE GRITS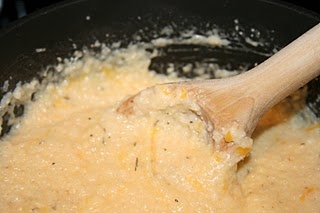 For the Grits:
1 1/4 cups Whole Milk
1 3/4 cup chicken broth
1/4 tsp ground red pepper
1/4 tsp dried thyme
3/4 cup quick grits
1 to 2 cups Shredded Cheddar Cheese
In 2 qt. saucepan, combine milk, broth, pepper and thyme; heat to boiling over high heat. Slowly whisk grits into liquid. Reduce heat to low; cover and simmer 5 to 7 minutes or until mixture thickens, stirring
occasionally
. Remove from heat and
stir
in cheese!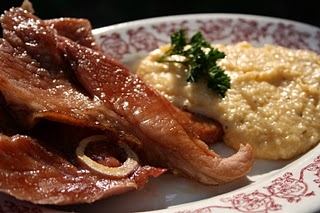 For the Ham:
1 ham steak about 1 1/4 pounds
Brown Sugar about 4 Tbsp
Heat large nonstick skillet over medium-high heat until hot. Pat ham dry with paper towels. Coat both sides of ham with brown sugar; add to skillet. Cook ham 5 minutes or until heated through and glazed turning once.
And voila, you have a down home Southern Comfort Food!
I have had this recipe for soooooo long. This is one of the things I started cooking out on my own. And this is well apparent by the simplicity of the meal. But it is oh so good!