Super Simple, Super Quick, Super Yumm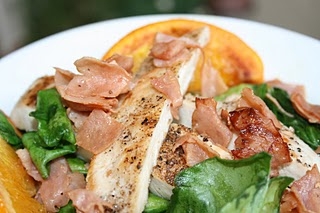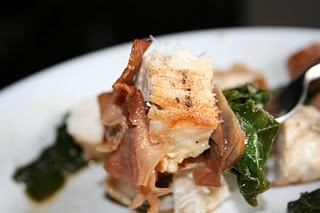 I was looking through my endless piles of recipes for another chicken recipe. I found this one tucked behind another recipe. I must have stolen it out of Better Homes and Gardens
probably from the dentist office or something(are you even supposed to do that???)Its from the October 2007 issue…Turkey Spinach Toss. I went to Publix to pick up some odds and end..but they were all out of turkey..I guess they are saving up for Thanksgiving! So using chicken was the next best thing.
SPINACH CHICKEN or Turkey TOSS
2 8-oz. chicken breast tenderloins, halved horizontally
1/4 tsp. coarsely ground black pepper
2 Tbsp. butter
2 oz. thinly sliced deli ham, cut into bite-size pieces
1/2 cup orange juice
2 9- to 10-oz.
pkgs
. fresh spinach
1 orange, cut into wedges (optional..they only add to the dish as a garnish)
Directions
1. Season turkey with 1/4 teaspoon pepper. In very large skillet heat butter over medium-high heat; add turkey. Cook 12 minutes or until no longer pink (170F); turn once.
2. Remove turkey from skillet. Slice into strips; cover and keep warm. Add ham to skillet; cook and stir 1 minute or until heated and starting to crisp. With slotted spoon remove ham from skillet. Add juice; bring to boiling.
3. Add spinach, half at a time, to skillet; cook 1 minute or until just wilted. Add orange wedges with second batch of spinach. Using tongs, remove from skillet; divide among plates. Sprinkle with salt and pepper. Top with turkey and ham. Drizzle with remaining juices from skillet. If desired, Makes 4 servings.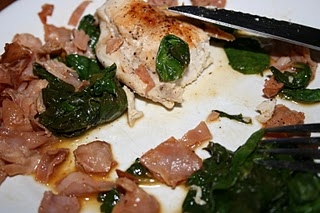 My professional in home taste tester(oh yeah I can afford one of those..but believe me its expensive 🙂 ) was very pleased with this 20 minute meal. As he said, "I don't like spinach, but this is good, I think its the orange juice that makes it, almost like a salad dressing."
The chicken was really flavorful despite only being seasoned with salt and pepper. Next time I will cook the ham a bit longer to make it extra crispy. This recipe is a keeper.
Also I have a confession..so I looked in the freezer for veggies and all I had was corn…well we just had corn the other night. Knowing my kids wouldn't even touch their forks to the spinach, I had to do my duties as a parent and put a veggi on their plates. So I did the unthinkable, I went into the pantry and blindly grabbed a can(oh my God..did I just say can) of green beans. Yes I am ashamed! They must have been in their from last Hurricane season. So I reluctantly stuck them in the microwave. I slathered them in butter in all hopes to cover the horrid aluminum flavor, and spooned them on the kids plates. When Aidan ate one he said, and I quote, "ehh, these green beans are gross." I can not tell you the joy that came over me knowing he hated the nasty ass canned green beans! I apologize to the canned vegetable people out there. But I was raised on fresh/frozen veggies, so the thought of canned vegetable's just leave a bad taste in my mouth..an aluminum taste that is!!!!