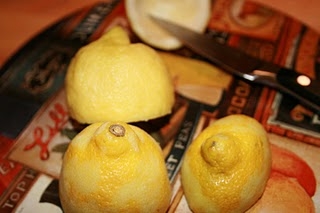 I love Lemons! The tart, mouth puckering flavor is the epitome of summer. And here in Tampa it is surely feeling like the hot and humid summer I have been dreading.
I had some extra lemons that I wasn't planning on using in any of my dinners for the week.
Sooooo
.baking was the only option!
I have made these Lemon Blossoms from Paula
Deen
before and they were explained to me like "a taste explosion in my mouth." I was in a bit of a rush today, and didn't really feeling like searching for another lemon recipe, so I went with these again.
However, something happened and the first batch stuck to the pan! What in the world????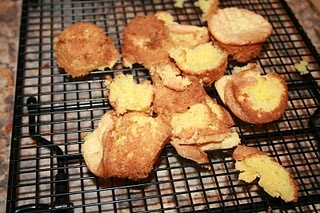 I sprayed the pans with Pam..but the damn things still wouldn't come out. So if you make these, be careful…with the next batch I still had to use a paring knife to loosen the little suckers so they wouldn't fall victim as well.
LEMON BLOSSOMS
18 1/2-ounce package yellow cake mix
3 1/2-ounce package instant lemon pudding mix
4 large eggs
3/4 cup vegetable oil
Glaze:
4 cups confectioners' sugar
1/3 cup fresh lemon juice
1 lemon, zested
3 tablespoons vegetable oil
3 tablespoons water
Preheat the oven to 350 degrees F.
Spray miniature muffin tins with vegetable oil cooking spray. Combine the cake mix, pudding mix, eggs and oil and blend well with an electric mixer until smooth, about 2 minutes. Pour a small amount of batter, filling each muffin tin half way. Bake for 12 minutes. Turn out onto a tea towel To make the glaze, sift the sugar into a mixing bowl. Add the lemon juice, zest, oil, and 3 tablespoons water. Mix with a spoon until smooth.
With fingers, dip the cupcakes into the glaze while they're still warm, covering as much of the cake as possible, or spoon the glaze over the warm cupcakes, turning them to completely coat. Place on wire racks with waxed paper underneath to catch any drips. Let the glaze set thoroughly, about 1 hour, before storing in containers with tight-fitting lids.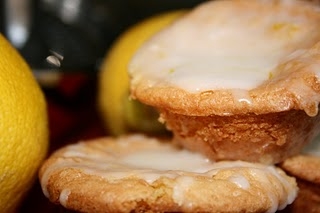 These are "one bite" little cakes! Two if you have a really small mouth! The glaze is wonderfully lemony and sweet! These are a must bake if you are having a NON CHOCOLATE sweet tooth!