I made a decision what to do with that big bowl of cherries….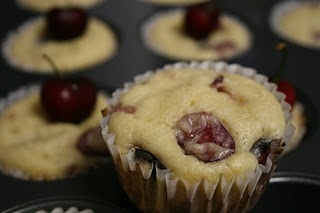 Cherry Ricotta Muffins
:
1 cup ricotta cheese
2 large eggs
1 cup buttermilk
1 tablespoon pure vanilla extract
1 tablespoon fresh lemon juice
4 tablespoons unsalted butter, melted and cooled
2 cups all-purpose flour
3/4 cup granulated white sugar
1 1/2 teaspoons baking powder
1/8 teaspoon baking soda
1/2 teaspoon salt
1 tablespoon grated lemon zest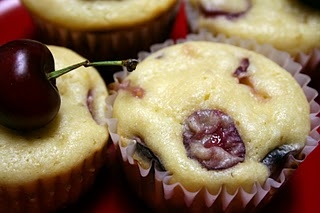 Preheat oven to 350 degrees F . Adjust rack in the middle of the oven. Line 12 muffin pans with paper liners or spray with a non stick spray.
In a medium sized bowl, whisk the ricotta cheese and then add the eggs, one at a time, beating well after each addition. Add the buttermilk, vanilla extract, lemon juice, and cooled melted butter, mixing well. Set aside.
In another large mixing bowl, whisk together the flour, sugar, baking powder, baking soda, salt, and lemon zest. Add the ricotta mixture to the flour mixture. Stir just until combined and then fold in the chopped cherries. to avoid tough muffins DO NOT over mix.
Divide the batter amongst the 12 muffin cups using two spoons or an ice cream scoop.
Place in the oven and bake about 20 minutes or until lightly browned and a toothpick inserted in the center of a muffin comes out clean. (The baking time will be a little longer is using frozen cherries.) Remove from oven and place on a wire rack to cool.
Makes 12 regular-sized muffins.
Thank you all for your great ideas for my lack of cherry inspiration! I found this recipe at
Joy of Baking. It is such a great site. Check it out if you haven't already.
As you can see from the last photo..there was a major tragic ending. Everything was going great. I pitted my cherries in no time with my kick ass cherry pitter. I swear it goes through cherries in no time and there is virtually no mess. Mixed up my batter. Which was great raw. I am a HUGE raw batter fan! Thanks to my mom who always let me lick the bowl and beaters! I would probably be perfectly happy not eating the finished product, just the batter. I am completely surprised I have never gotten salmonella poisoning over the years. Back to the story…Pulled out some paper liners. Scooped the batter into the cups and put them in the oven.
The timer went off and my toothpick tester came out clean. For some reason they didn't brown on top, but they still looked yummy. Then they had their little photo shoot.
Well here comes the sob story.. I picked up my first muffin,,started to peel the muffin cup off..and the paper was actually FUSED to the muffin. Now I am not talking about a little stickage here. Half of the muffin was completely stuck. I thought to myself..hmm that sucks..I went to the next one…SAME THING…so just picture this, we all remember that scene in the classic movie, Mommy Dearest from 1981…when Joan Crawford was screaming at her daughter Christina.."NO MORE WIRE HANGERS" while ripping all of her clothes out of her closet!
Well , that was the scene in my kitchen.. I was ripping off all of the paper liners in a rage yelling "NO MORE PAPER LINERS"! Oh I was pissed. What could have happened? I looked at the package of liners. They were some no name brand. So that is what I am going to blame it on! I did have 3 foil liners that I used, and all 3 muffins came out perfectly!
Don't let my horror story discourage you from baking these! They are wonderful. They are not you ordinary sweet muffin. They are only slightly sweet, nice and creamy from the Ricotta and really moist from the cherries. Just wonderful flavor. Next time "NO MORE PAPER LINERS", I will just grease he muffin pans and go that route!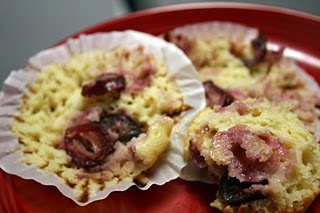 Sad sad sad photo!