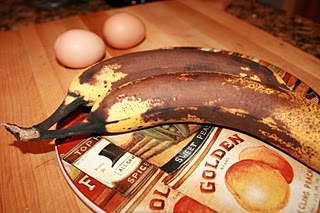 To throw them out or bake??….that is the question! And with the price of bananas these days, I couldn't bear to toss them in the garbage!
My husband said the other day..is there such thing as a Banana Cookie? Well I know I have never baked one, nor have I ever tasted one. So let the search begin!
I love banana bread, and I think I have pretty much perfected that one, so I needed another banana outlet! The winner was inspired by Banana Bread Cookies off of All recipes.com
I cant really call these cookies. I would have to say these are more like a Muffin Top….a thin muffin top. They are moist and delicate with a ever so slight crisp if you let the edges get brown.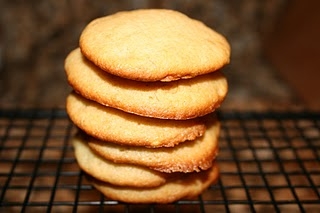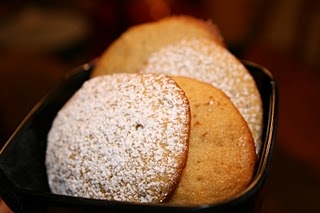 Banana Bread Muffin Top Cookies

1 cup butter softened
1/2 cup white sugar
1/2 cup brown sugar
2 eggs
1 teaspoon vanilla extract
2 banana, peeled and mashed
2 cups all-purpose flour
1 teaspoon baking soda
1/2 teaspoon salt
1/2 teaspoon cinnamon
Powdered Sugar if desired
DIRECTIONS
Preheat oven to 350 degrees F (175 degrees C).
Line baking sheets with parchment paper
In a medium bowl, cream together butter and sugars until smooth. Beat in eggs, vanilla extract, and banana. Combine flour, baking soda, salt and cinnamon; blend thoroughly into the butter mixture to make batter. Drop by rounded tablespoons onto the prepared baking sheets.
Bake 10 to 15 minutes in the preheated oven, or until lightly browned. Let cool on baking sheets for 2 minutes. Cool to room temperature on cooling rack. Sprinkle with powdered sugar if desired.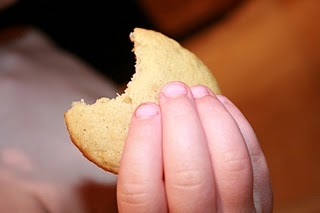 These were such a hot item in my house..every time I turned around my almost 3 year old was eating a new one! They must be good because it seems like the only cookies she really likes are the free sugar cookies with the sprinkles on top from Publix( which she calls "Sprinkler Cookies").
The moral to the story….if you have 2 brown ugly bananas…don't throw them out..bake these delectable little muffiny toppy cookie treats!