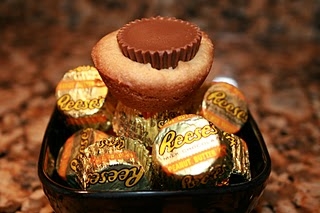 Gaze your eyes upon these little suckers. I know you ladies experiencing "that time of the month" cant keep your eyes off them! Snap out of it! Just snap out of it! These are the perfect little remedy for any sort of PMS symptom. And men, we all know you sympathize with us women greatly during our rough time of the month…so be extra special and mix up a batch of these PMS cure all's for your lady! They are a nice twist on an old classic..The Peanut Butter Kiss Cookie. The little boost of peanut butter that the Reese's cup gives off is just perfect. And it also adds a tiny bit of saltiness! Just perfect. The cookie itself is perfectly moist and chewy! These disappear as fast as you can make them! Sooooo watch out!
Oh yeah..and I just dare you to try to make these cookies without eating 3 or 4 Reese's Cups.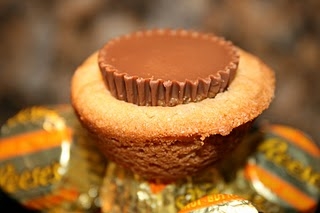 PEANUT BUTTER CUP COOKIES
INGREDIENTS
1 3/4 cups all-purpose flour
1/2 teaspoon salt
1 teaspoon baking soda
1/2 cup butter, softened
1/2 cup white sugar
1/2 cup peanut butter
1/2 cup packed brown sugar
1 egg, beaten
1 teaspoon vanilla extract
2 tablespoons milk
40 miniature chocolate covered peanut butter cups, unwrapped
DIRECTIONS
Preheat oven to 375 degrees F (190 degrees C).
Sift together the flour, salt and baking soda; set aside.
Cream together the butter, sugar, peanut butter and brown sugar until fluffy. Beat in the egg, vanilla and milk. Add the flour mixture; mix well.
Shape into 40 balls and place each into an greased mini muffin pan.
Bake at 375 degrees for about 8 minutes. Remove from oven and immediately press a mini peanut butter cup into each ball. Cool and carefully remove from pan.
***** VERY IMPORTANT***** Unwrap the Reese's Cups and freeze them 1/2 hour before baking. If not, you will have a melted blob of mess on your cookie!
*****TIPS***** I used my small Pampered Chef scooper and flattened it on the side of the bowl so all of the cookies are exactly the same size and cooking time is even.
You might have to run around the edges of the cookie in the pan with a paring knife to loosen them to get them out without loosing them to the dreaded pan monster!
Thanks to Buchko on All Recipes for the idea.