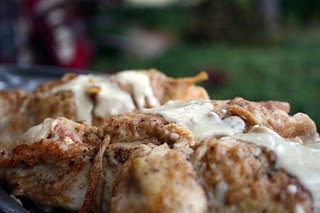 I really wish I had some sort of speck of memory in my cranium. However I don't. But if I did I would remember when and where I had my first and only(until now) experience with Chicken Cordon Bleu. I just remember the greasy out side that was sort of fried, the chewy swiss cheese and the fibrous ham in the middle. Oh how nasty it was! I have not had it in many many years! I hear that the taste buds change every 7 years. Now if that is true, I have no clue. I wanted to give it another shot. But there was a major problem..I cant stand swiss. Thus I had to do some changing. So below is my take on Chicken Cordon Bleu. I think you will like it even if you do enjoy the original dish.
6 skinless, boneless chicken breast halves
6 slices Munster cheese
6 slices ham
3 tablespoons all-purpose flour
1 teaspoon paprika
1 teaspoon garlic powder
1 teaspoon onion powder
6 tablespoons butter
1/2 cup Pinot Grigio
1 1/2 teaspoon chicken bouillon granules
1 tablespoon cornstarch
1 cup heavy whipping cream
Butterfly or pound the chicken breasts so they are thin. Place a cheese and ham slice on each breast within 1/2 inch of the edges. Roll the chicken, and tie it with kitchen string.. Mix the flour,paprika, garlic powder and onion powder in a pie dish, and coat the chicken pieces.
Heat the butter in a large skillet over medium-high heat, and brown chicken on all sides. Add the wine and bouillon. Lower heat to low, cover, and simmer for 30 minutes, until chicken is no longer pink and juices run clear.
Cut and remove the kitchen twine, and transfer the breasts to a warm platter. Whisk the cornstarch with the cream in a small bowl, and whisk slowly into the skillet. Cook, stirring until thickened, and pour over the chicken.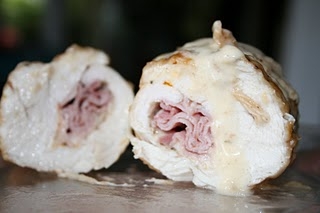 ***sorry about the crazy spacing in the ingredients..Blogger has a mind of its own,,,oh and it soooo pisses me off. Anyone have a solution to the phantom spacing?