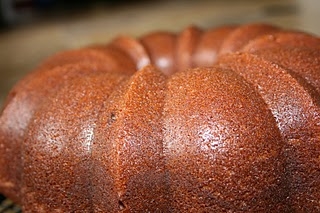 As you can tell from the last photo, this was my first attempt at a "Marbled" cake. Looks more like a half and half cake to me! It lacks those beautiful swirls you see in the professional cakes. Well I guess I will just have to practice some more! No complaints here! I got this recipe from the wonderful and informative site Baking Bites.
The outside of the cake isn't so fancy..just looks like a brown boring brown bundt cake. But when you slice into it is is so deliciously moist. The banana flavor stands out. Then you bite into the chocolate portion of the cake it is just perfectly chocolaty!
To be honest with you, I really was hesitant to make this cake. I wasn't so sure about the banana and chocolate in a cake. Why? Who knows. Together they naturally go together! Maybe because I am not a big chocolate cake fan. But I was willing to give it the old college try. And I was sooooooo NOT disappointed! And neither will you if you make this YUMMY cake! Thanks Baking Bites !!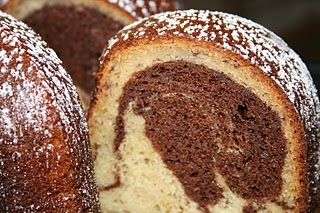 Marbled Banana Bundt Cake
1/2 cup butter, softened
1 1/2 cups sugar
3 large eggs
1 1/2 tsp vanilla extract
3 ripe, medium bananas, mashed (about 1 cup)
2 cups all purpose flour
1 tsp baking powder
1 tsp baking soda
1/2 tsp salt
1 cup sour cream
1/4 cup cocoa powder, sifted
Preheat oven to 350F and lightly grease a 12-cup bundt pan (12-inch diameter).In a large bowl, cream together butter and sugar until light. Beat in the eggs one by one, waiting until each has been incorporated to add the next. Beat in vanilla extract and mashed bananas.In a medium bowl, whisk together the flour, baking powder, baking soda and salt. Add half of the flour mixture to the butter mix and stir to combine. Add in the sour cream, followed by the remaining flour mixture.Remove 1 1/2 cups of batter into a small bowl and stir in cocoa powder.Pour 2/3 of the plain batter into the prepared bundt pan, top with cocoa batter and spoon the rest of the plain batter on top. Run a knife through the batter gently to swirl.Bake for 45-55 minutes, or until a toothpick inserted into the center of the cake comes out clean and the top springs back when lightly pressed.Turn cake out onto a wire rack to cool completely before slicing.Serve plain, or dusted with powdered sugar.
Serves 12-16.