I obviously have NO Italian blood in my family…and this will be very apparent in my Spaghetti recipe! If a true blooded Italian( or even an Italian twice removed) tasted my Spaghetti they would probably spew it across the room. Goodness, I am really talking up my food aren't I? Makes you want to get off the computer and make it doesn't it?
No really, I think, and anyone else who has tasted it has really enjoyed my Spaghetti and Meatballs. It is just a Hodge Podge of ingredients. It is just my go to recipe that I make when I have some ground beef to use up. It is super easy. I just throw all the goods in the crock pot in the morning and it brews up by the time I get home from my daily travels! Feel free to omit or add anything. And I am always up for suggestions on how to make better Italian Spaghetti.
Spaghetti and Meatballs
2 Lb ground beef(Organic)
3 links Hot Italian Sausage
1 15 oz Can Tomato Sauce
1 29 oz Can tomato Sauce
1 12 oz Can Tomoto paste
3/4 bottle beer(not light beer)
A few shakes Crystal Hot Sauce
1 Onion Chopped
2 cloves garlic chopped
1 orange pepper(If I have one on hand)
1 jar(14 oz) Ragu Pizza Sauce(homestyle)**
1/2 tsp garlic powder
1 tsp onion powder
1 Beef bouillon cube
4 Bay leaves
1 Lb Spaghetti noodles( cooked acording to package directions)
**I know, you are thinking, why in the hell do I put Pizza Sauce in my Spaghetti sauce??.well the answer is simple..I don't know! I had some in the fridge left over from making pizza and just dumped it in the sauce. Hey, it gave it a nice flavor. But if you left it out, I am sure you wouldn't miss it!
Brown ground beef and drain. Brown sausage on all sides. Place all ingredients is crock pot and simmer on high for 4 hours
MEATBALLS
1 lb ground beef
2 Large eggs lightly beaten
1 lb ground pork
1/2 cup chopped parsley
1/2 cup panko crumbs
Kosher salt
1/4 cup whole milk
Pepper
1 Onion finely chopped
Olive oil
1/2 stick butter softened
Soak bread crumbs in milk while you mix the other ingredients. Put beef and pork into large bowl. Add onion, butter, eggs and parsley, season well with salt and pepper. Put the soaked bread crumbs into bowl and mix all ingredients together. Form the mixture into balls the size of a ping pong ball. Heat about 1/2 inch olive oil over medium heat. Fry meatballs until they are browned on all sides and cooked through, about 15 minutes.
Put meatballs in sauce with about 1 hour of cooking to go.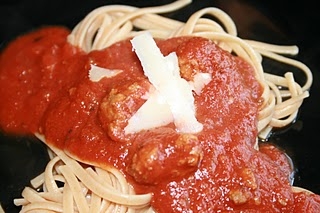 And there you have it..my non Italian Spaghetti and Meatballs. Like my header at the top..nothing Fancy Schmancy!