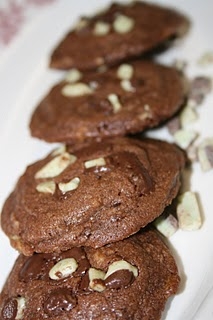 Don't you just adore Chocolate and mint together? The two paired together always remind me of Thin Mint Girl Scout cookies(which I could eat the whole box in one sitting..preferably frozen!)
So if you are PMS'ing or you are just in the mood for some soft chocolate cookies with a mint twist these are just for you and they are simple super easy to make!
PMS CHOCOLATE MINT COOKIES
1 cup butter, softened
1-1/2 cups sugar
2 eggs
2 tsp vanilla extract
1 tsp peppermint extract
2-1/2 cups all-purpose flour
1/2 cup cocoa powder
1/2 tsp salt
1 1/2 cups (or so) Mint Baking Chips…I used Andes
1 – Preheat oven to 350 F.
2- In the bowl of an electric mixer beat together the butter, sugar, eggs, peppermint and vanilla until fluffy.
3- Combine the flour, cocoa, and salt. Gradually add the flour mixture to the butter mixture, beating until well blended. Stir in the mint chips.
4 – Drop the cookie dough by tablespoonfuls onto an ungreased cookie sheet.
5 – Bake 8 to 10 minutes, just until the tops set. Don't over bake, as this will make your cookies hard and dry.
Remove the sheet from the oven, allow the cookies to rest on the sheets for 1-2 minutes, then remove to a cooling rack.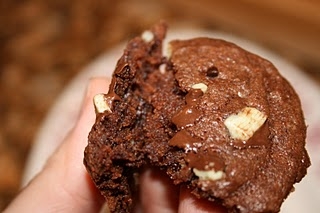 Moist and Soft!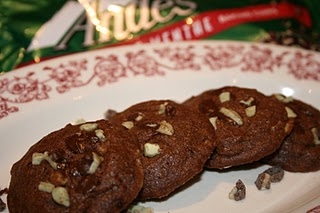 Adapted from Cookie Baker Lynn