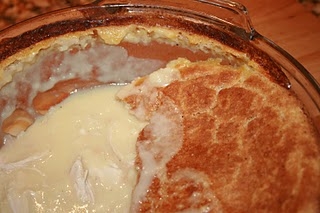 This dish wasn't really what I expected it to be. Yes it did have a rich and creamy comfort food taste, but it was more like a soupy chicken pot pie minus the veggies. The biscuit topping was delightful and had a tiny bit of tang from the buttermilk. Don't get me wrong it was very tasty..it just needs to be tweaked a bit. When I make this again ( and I will) I will add mushrooms and some frozen mixed vegetables. There we have it, it will be Chicken POT Pie..not just Chicken Pie!
3 cups shredded cooked chicken
2 cups chicken broth
1 can (10oz.) condensed cream of chicken soup
1 cup self-rising cake flour
1/2 tsp. freshly ground pepper
1 cup buttermilk, well shaken
1/2 cup unsalted butter, melted.
Heat oven to 425º. In a 2 qt. casserole, evenly spread out chicken. In med. saucepan whisk together broth and soup; bring to a boil over med. heat. Pour over chicken.
In med. bowl, combine flour and pepper; stir in buttermilk and butter. Pour over chicken (do not stir.) Smooth top.
Bake pie uncovered until browned and bubbly about 45 min