Olive Garden's Tuscan Garlic Chicken
Ingredients
4 each (4 oz) boneless, skinless chicken breasts
1 1/2 cups flour, plus 1 tablespoon
1 Tbsp salt
2 tsp black pepper
2 tsp Italian seasoning
1 lb fettuccine pasta, cooked according to package directions
5 Tbsp olive oil
1 Tbsp garlic, chopped
1 red pepper, julienne cut
1/2 cup white wine
1/2 lb whole leaf spinach, stemmed
2 cups heavy cream
1 cups Parmesan cheese, grated
Procedures
Pre-heat oven to 350ºF.
MIX 1½ cups flour, salt, pepper and Italian seasoning in a shallow dish. Dredge chicken in the mixture, shaking off any excess.
HEAT 3 Tbsp oil in a large skillet. Cook chicken breasts 2 at a time over medium-high heat until golden brown and crisp (2-3 min). Add more oil for each batch as necessary.
PLACE cooked chicken breasts on a baking sheet and transfer to preheated oven. Cook for 10-15 minutes or until internal temperature reaches 165°F.
HEAT 2 Tbsp oil in a sauce pan. Add garlic and red pepper and cook for approximately 1 minute. Stir in 1 Tbsp flour, wine, spinach and cream and bring to a boil. Sauce is done when spinach becomes wilted. Complete by stirring in Parmesan cheese.
COAT cooked, drained pasta with sauce, then top with chicken and remaining sauce. Garnish with extra Parmesan cheese.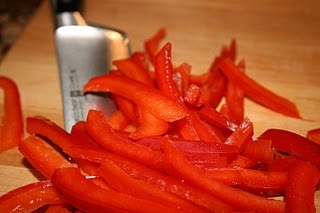 I am not a big fan of peppers, but I went with the recipe one this one. And much to my surprise, they did not overpower the sauce at all.
The sauce was delicate with just a hint of garlic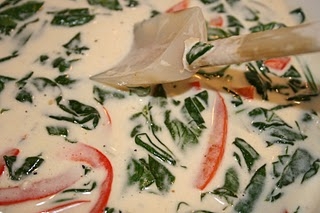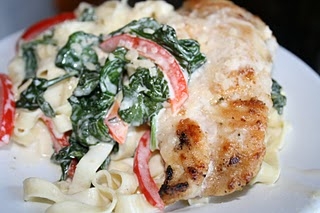 I was very happy with the meal. I seriously could have eaten the whole thing. Even my 2 1/2 year old ate the noodles(and she NEVER eats noodles). Like I said before, the red peppers were not overpowering. And the spinach was fresh and added wonderful color. I used fresh pasta instead of the boxed variety for a more authentic taste.
I never thought to go to a restaurants website for recipes. But I wont hesitate to look there in the future for new recipes!
***And from a photography standpoint….I know,I know, I should have platted this on a dark plate for some contrast from the mostly white dish. Problem is I don't have many dark plates. I suppose I will have to build my collection.