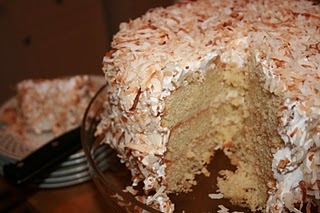 And what a better way to do it than with Coconut Cake!! I made this cake for Easter and it was a big Hit. Although I was up in the air about it.
I found this beautiful cake on Food Network..Jamie's Coconut cake…by the glorious Paula Deen.
Basic 1-2-3-4 Cake with coconut milk
2 sticks butter, at room temperature
2 cups sugar
4 eggs
3 cups sifted self-rising flour
1 cup coconut milk
1 teaspoon pure vanilla extract
Filling:
3/4 cup sugar
1 cup sour cream
4 tablespoons milk
1/2 cup flaked, sweetened coconut
7-Minute Frosting:
1 1/2 cups sugar
1/4 teaspoon cream of tartar or 1 tablespoon white corn syrup
1/8 teaspoon salt
1/3 cup water
2 egg whites
1 1/2 teaspoons pure vanilla extract
2 to 3 cups coconut, flaked and sweetened
Cake:
Preheat oven to 350 degrees F. Grease and flour 3 (9-inch) cake pans. Using an electric mixer, cream butter until fluffy. Add sugar and continue to cream well for 6 to 8 minutes. Add eggs, 1 at a time, beating well after each addition. Add flour and coconut milk alternately to creamed mixture, beginning and ending with flour. Add vanilla and continue to beat until just mixed. Divide batter equally among prepared pans. Level batter in each pan by holding pan 3 or 4-inches above counter, then dropping it flat onto counter. Do this several times to release air bubbles and assure you of a more level cake. Bake for 25 to 30 minutes or until done. Cool in pans 5 to 10 minutes. Invert cakes onto cooling racks. Filling: Stir together sugar, sour cream, milk, and coconut in a bowl until well blended. Add first cake layer onto pedestal. Using the wrong end of a wooden spoon, poke holes approximately 1-inch apart until entire cake has been poked. Spread a third of filling mixture on cake layer. Top with second layer, repeat process. Top with last layer and repeat process again.
Frosting:
Place sugar, cream of tartar or corn syrup, salt, water, and egg whites in the top of a double boiler. Beat with a handheld electric mixer for 1 minute. Place pan over boiling water, being sure that boiling water does not touch the bottom of the top pan. Beat constantly on high speed with electric mixer for 7 minutes. Beat in vanilla. Frost the top and sides of the cake. Sprinkle top and sides of cake with coconut. Garnish with artificial holly, if desired.
Above is the recipe as published..but I did make some changes…
I added about a Tablespoon of Coconut Extract to the cake mix and filling.
I toasted the coconut for the outside of the cake..I think it looks prettier.
***MOST IMPORTANT*** Make the cake 3 days ahead of time..poke a bunch of holes in all 3 cakes. Put the filling on the cakes..assemble and wrap in plastic wrap or tin foil and put them in the fridge for THREE days!
Next time I make this cake I will try to put some crushed Pineapple in the filling.
I personally didn't like the 7 minute frosting..I will do a basic cream cheese frosting on my next try!