So last night I posted about the "Joys of Nutella". Well after finding a recipe that look worth making, I just knew I had to get rid of that jar of Nutella before I ate it all!
And the winner is…drum roll please…………
Nutella Peanut Butter Brownies
1 cup unsalted butter
2 cups sugar
2 teaspoons vanilla extract
4 large eggs
1 cup all-purpose flour
3/4 cup cocoa powder (non-alkalized)
1/2 teaspoon baking powder
Dash salt
1/2 cup smooth peanut butter
Preheat the oven to 350 degrees F. Grease a 9 by 13-inch glass baking dish.
Melt the butter over low heat; when melted remove from heat and stir in the sugar and vanilla. Add the eggs 1 at a time, beating after each addition. Add flour, cocoa, baking powder and salt, and mix well.
Mix the peanut butter and chocolate spread in a small microwave-proof bowl, and heat in the microwave until it reaches a runny consistency. Stir the mixture into the batter; then pour it into the baking dish. Bake for 30-35 minutes. Allow to cool before cutting and serving.
The mixing of the dry ingredients.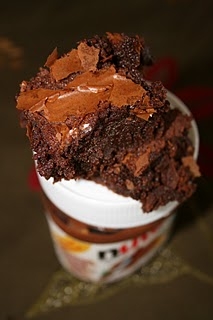 And the end result of these super easy to make brownies is out of this world.
I really wasn't able to taste much of the Nutella or the peanut butter which is somewhat disappointing since the Nutella has such a distinct flavor. But non the less, these were probably the most moist brownies I have made to date. The edges are nice and chewy, and the middles are tender and extremely moist! They did make a bit of a mess when I cut them because they are so tender. But the taste is still dark, rich and fudgy! These are a must bake!
Recipe courtesy Bethany Burchick from Pittsburgh, PA