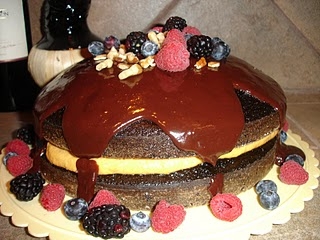 CHOCOLATE HARVEST CAKE
This very pretty to look at cake is VERY rich. The pumpkin filling is super creamy. I think next time instead of using pumpkin, I will use a strawberry filling of some sort.
Cake
1 cup buttermilk
1 cup water
2/3 cup cooking oil
2 cups sugar
2 egg
1 teaspoon baking soda
1/2 teaspoon salt
2 cups flour
3/4 cup cocoa powder
Pumpkin Cream Filling
1 (8 ounce) package cream cheese (softened)
1/3 cup canned pumpkin
1/4 cup sugar
1/4 teaspoon cinnamon
Chocolate Glaze
1/2 cup whipping cream
4 ounces semisweet chocolate
Directions
Preheat oven to 350 degrees.
Grease (and flour) two 9″x1 1/2″ round baking pans.
Combine and whisk all cake ingredients BUT flour and cocoa powder.
Add flour and cocoa powder and whisk until even.
Spread evenly into the two pans.
Bake for 30-35 minutes until top springs back or toothpick comes out clean.
Let cool.
In a medium bowl, whisk together Pumpkin Cream Filling ingredients. (Make sure cream cheese is soft enough so you don't end up with cream cheese chunks!).
Spread Pumpkin Filling on top of one cake and top it with the other.
Boil whipping cream over medium-high heat.
Remove from heat and add chocolate, DO NOT stir.
Wait 5 minutes until chocolate is melted, then stir until smooth and chocolate is liquid.
Wait until glaze has thickened (10 minutes) and then pour over top of cake.
Refrigerate cake or let set until glaze is fairly solid (15-30 min).
OPTIONAL: top with seasonal berries or nuts
I snagged this one from 2006 November Issue Of Better Homes and Gardens