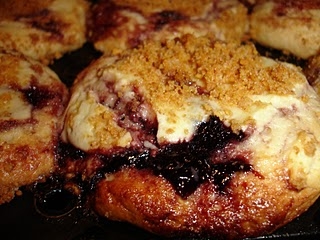 Cherry Cheesecake Muffins
I have to say I am more of a Chocolate fan but these yummy and
extremely
moist muffins were just
delish
. I found them while
perusing
through
Foodnetwork

.com
They look messy but also professional!
1 box moist white cake mix
8 ounces cream cheese, softened
1/2 cup sour cream
2 eggs
1/4 cup plus 1/2 cup sugar
2 cups graham cracker crumbs (crushed with rolling pin)
6 tablespoons butter, melted
1/4 cup cherry preserves
Cheese Filling: 8 ounces cream cheese softened
1/4 cup sugar
1 egg
1/2 teaspoon freshly-squeezed lemon juice
Lightly grease a 12-cup muffin pan and set aside. Preheat oven to 350 degrees F.
To make the batter, in a large mixing bowl, combine cake mix, softened cream cheese, sour cream, eggs, and 1/4 cup sugar. Beat on medium speed for 3 minutes.
To make the crust, combine graham cracker crumbs, 1/2 cup sugar, and melted butter in a small bowl. Set aside.
In a smaller mixing bowl, beat together all ingredients for cheese filling until smooth. Set aside.
Divide half of the graham cracker mixture among the 12 muffin cups and lightly press into bottoms. Fill cups all the way to the top with muffin batter. Place 1 teaspoon of cherry preserves on top of muffin batter and with a teaspoon, lightly cut preserves into batter.
With the back of a spoon dipped in water to keep from sticking, indent the batter and top with a dollop of filling to cover the cherry preserves. Sprinkle remaining graham cracker mixture over the top of muffins. Bake for 25 to 30 minutes. Let cool 10 minutes before removing muffins from pan.
Be careful in removing them they might stick…I lost a few in the
dreaded
PAN.
You will love these.