This is what ONE MILLION DOLLARS looks like!!! Carolyn Gurtz of Gaithersburg recently won the Pillsbury Bake Off to the tune of $1,000,000.00 with this cookie. So you know I had to try it for my self. While the cookie was really easy to make, I am not sure it is worth all of that lute! My normal official taste testers, my sister and my husband had different opinions. My sisters reaction was, "I have tasted other cookies you have made that are much better than these." And my husband said, " these are probably one of the best peanut butter cookies I have eaten, but I not sure a prize winner."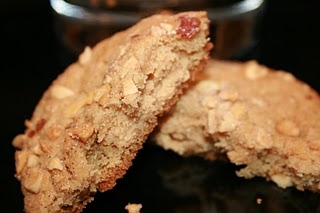 What are my thoughts? Ehhh. They are pretty good. I guess just the thought of knowing how much money they are worth, one might expect more out of them. I am not much of a fan of packaged cookie dough. My consensus is they taste too processed and have a chemical aftertaste. But those two not so pleasing qualities are well camouflaged by the added ingredients like the cinnamon and peanuts. They are nice and chewy and the peanut butter middle is a nice treat.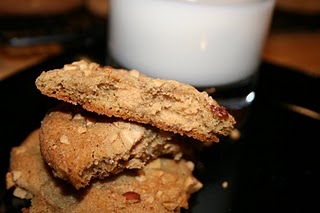 Double-Delight Peanut Butter Cookies
INGREDIENTS
1/4 cup Fisher® Dry Roasted Peanuts, finely chopped
1/4cup Domino® or C&H® Granulated Sugar
1/2teaspoon ground cinnamon1/2cup JIF® Creamy Peanut Butter
1/2cup Domino® or C&H® Confectioners Powdered Sugar
1 roll (16.5 oz) Pillsbury® Create 'n Bake® refrigerated peanut butter cookies, chilled
DIRECTIONS
1.
Heat oven to 375°F. In small bowl, mix chopped peanuts, granulated sugar and cinnamon; set aside.
2.
In another small bowl, stir peanut butter and powdered sugar until completely blended. Shape mixture into 24 (1-inch) balls.
3.
Cut roll of cookie dough into 12 slices. Cut each slice in half crosswise to make 24 pieces; flatten slightly. Shape 1 cookie dough piece around 1 peanut butter ball, covering completely. Repeat with remaining dough and balls.
4.
Roll each covered ball in peanut mixture; gently pat mixture completely onto balls. On ungreased large cookie sheets, place balls 2 inches apart. Spray bottom of drinking glass with CRISCO® Original No-Stick Cooking Spray; press into remaining peanut mixture. Flatten each ball to 1/2-inch thickness with bottom of glass. Sprinkle any remaining peanut mixture evenly on tops of cookies; gently press into dough.
5.
Bake 7 to 12 minutes or until edges are golden brown. Cool 1 minute; remove from cookie sheets to cooling rack. Store tightly covered.
My additions…. I added 1 Tablespoon of honey and 1 1/2 teaspoons vanilla to the filling mixture.
Tips…. use a teaspoon scoop to measure the filling balls.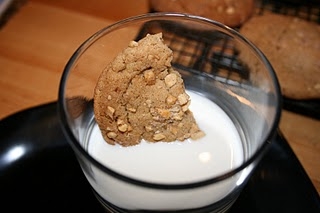 Final thoughts…every good cookie belongs in a nice cold glass of milk!!